The Association of Magazine Media (MPA) released a study following growth in magazine-created iPad Apps, tracking a decline from previous months' numbers.
The data, gathered using McPheters & Company's iMonitor service developed exclusively for MPA, tracks the rate at which apps are added to the Apple App Store. This is the first report of which is to be a monthly report measuring app development.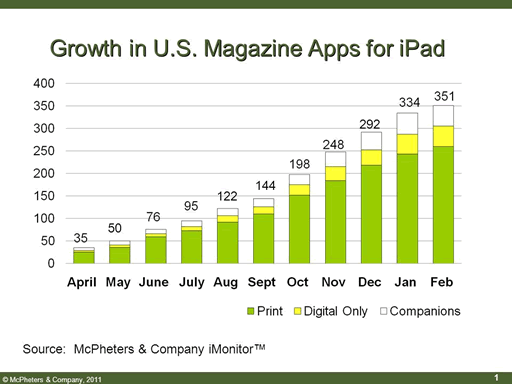 From January to February, the rate at which apps were added to the App Store slowed in comparison to rates between previous months, with 17 app additions reported. From December to January, 42 apps entered the store; November to December saw the app count go up from 248 to 292.
MPA is attributing this addition slowdown "to the aftermath of the holidays."
However, since iMonitor began tracking app additions to the App Store in April 2010, "the number of iPad apps for U.S. magazines has increased ten-fold". U.S. apps account for around a third of iPad apps related to publications available at the App Store.