Adapt or Decline

Publishers expect more from their printer than ink-on-paper.
There's no resisting the trend. To survive, magazine businesses are compelled to diversify beyond the printed page, whether they want to—or know how to—or not. They're also compelled to stare down the harsh realities of rising paper, ink and distribution costs, as well as increasing competition from online-only and other competitors. So where are publishers who are combating these challenges successfully turning for help? In many cases, to vendors known mostly for putting ink on paper in the first place—their printers.
"A good printer is your partner, not just your supplier," former DLG Media Holdings COO Dana Spain-Smith recently told FOLIO:. This is a common sentiment among publishers, but what exactly does that mean? What makes a printer a partner, not just a supplier?
For Jonathan Moffly, president of Moffly Publications, it's a printer that changes "as fast as us and the marketplace," he recently told FOLIO:. It means tools and ideas—advertising ideas, editorial product ideas, efficiency ideas and best practices from other publishers. Also, "we look for tools, many online, including in-house efficiency-oriented tools (pagination, media library, automated page layout), advertiser aids-oriented tools (streamlined uploading and processing of ads, ads repurposing for Web and other formats), readership aids (online delivery of the magazine, online circulation promo, fulfillment) and research tools," says Moffly.
That's a mouthful but also an indication of what publishers are grappling with and looking for from their partners. Here, Folio: breaks down the evolving relationship between publisher and printer and looks at emerging technologies, tools and ideas that are changing the way magazines are printed—and, in some cases, not printed.
Support for a Multi-Platform Publisher
To stay in the game, printers have been forced to add value to their offerings, especially for multi-platform publishers. "Printers have emerged as a resource for publishers with the advantage that they bring both digital infrastructure and technical knowledge," says Marilynn Jacobs, vice president of marketing, magazine business for Quebecor World. These services include anything related to the automation of workflows and the taking of files and repurposing across print, Web and mobile platforms in order to get the most out of files and "reach multi-age and cultural audiences," says Quebecor's director, technical sales offset and gravure, Gina Sigmon. But some publishers aren't ready for all this. "We're at the inflection point currently in terms of the adoption of these technologies," Jacobs says. "Some customers are much farther along than others. We customize our options to match the customers' needs and culture."
Cut Costs or Drive Revenue?
For publishers, one of the most important facets of their "partnership" with printers is cost-cutting. "We are always looking for more efficient and less costly ways to enhance our workflow," says Elizabeth Graham, head of production at Haymarket Media. "We are definitely keeping the pressure on the vendors to help us in this area."
"We have always expected our printers to partner with us on cost management," says Steve Johnston, director of manufacturing at Summit Business Media.
According to Clay Hall, CEO of Aspire Media, "Today more than ever, pricing is a real difference maker for publishers, especially in light of exorbitant increases in the cost of paper and postage and migration of readers and advertisers to online products."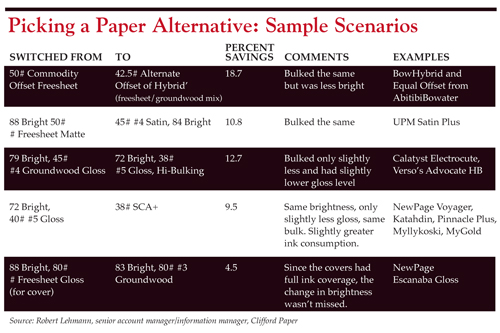 In contrast, some are more concerned with what printers can do to help drive revenue. "What I need from a printer is one that can offer me creative solutions to 'special' customer requests," Bret Kealy, publisher at Penton Media, told FOLIO:. "If I get a request for an unusual insert I need someone who can figure out if there is any way to accommodate the request or give me some viable alternatives if the request is impossible to print or is too expensive."
An example of something like this is a new premium technology called MetalFX recently released by Transcontinental Printing. It allows for metallic color options, which can be used to add value to advertisements or create covers that "make publications jump out at the newsstand and cut through the clutter in stores and in the mail," according to the printer's Web site. Still, as Johnston at Summit says, "costs are always a pressure." For him, "one of the current areas of opportunity is co-mailing. We expect our printers to stay on top of this and continue to help us in a way that both reduces costs and improves delivery."
Distribution Woes
Distribution is a huge cost center for publishers, and postal rates have been a major culprit in this for some time. To offset mailing costs, publishers look to printers for solutions like co-palletization, where bundled magazines are grouped on the same pallet with others going on the same route, and drop shipping, which moves freight closer to its destination without using the U.S. Postal Service. But arguably the most popular postal savings technique is co-mailing, which allows different titles to be bound and mailed together in the same mail stream, making them eligible for deep postal discounts. Co-mailing can save publishers between 10 and 15 percent on postal costs, which makes a printer who offers this service—the larger printers like Quebecor World, Brown, Publishers Press and R.R. Donnelley—more desirable, especially for a small publisher without enough volume to create bundles of its own.
Co-mailing saves Cygnus Business Media more than $350,000 a year, according to Tom Martin, the company's vice president of manufacturing. It's a good thing, too, since the publisher saw an increase of about 13 percent starting with its August issues last year. Still, postage accounts for about 40 percent of Cygnus' operating cost, with an annual total of about $9 million.
Paper accounts for about 45 percent of the production costs at Consumer Reports, according to senior director of publishing operations and business affairs Lou Malani, followed by distribution at 35 percent and printing at 20 percent. "We're co-mingling our mail and running different publications in a bindery together—not bound together but they're in the same mail stream so we get the sortation," he adds. "We do more and more personalization of the magazines. We have house ads and there's no use in certain ads going to the wrong people. We used to have one issue of Consumer Reports—now there might be four or five or eight versions. That's where in the bindery area and distribution area printers are doing more of the work."
That's also where digital editions step in for some publishers, and printers are seizing the chance to be part of it. Publishers Press, for example, offers an e-PubXpress service, which allows publishers to create and distribute digital versions of their magazines, while Brown Printing has teamed with digital magazine vendor iMirus. While the mailing cost of a direct mail piece might be $50,000 through the Postal Service, Brown might do it for $6,000 to $8,000 through e-mail blasts and a digital edition.
Digital Workflows Deliver
Implementation of digital workflow tools like virtual (or soft) proofing and ad portals have been one of the most revolutionary trends in magazine manufacturing for a while now, and they continue to gain ground as publishers look to cut production costs. In the process, many publishers have been able to eliminate or drastically downsize their prepress operations.
United Business Media's U.S. operation (formerly CMP) is one example. As Folio: reported in February, it eliminated its West Coast prepress operations and downsized its East Coast operations to handle just weeklies and saved $400,000 last year, according to Peter Tomski, the company's senior director of premedia and manufacturing.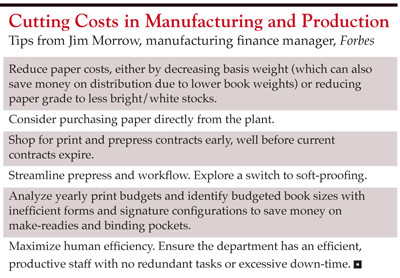 Haymarket Media is another example. "We have taken several magazines that were utilizing a prepress house to prepare the print-ready PDFs and prepare our 'bluelines' and we now upload the PDFs direct in-house to an online proofing system [R.R. Donnelley's InSite]," says Graham. As a result, Haymarket is saving approximately $25 a page. For the 800 to 950 pages Haymarket prints per month, that leads to savings of between $20,000 and $23,750 every 30 days.
The other advantage of making this transition, Graham says, is that it utilizes the soft proofing tool that Haymarket was paying for—as it was automatically linked to the printer's workflow—but not using, as Haymarket's staff would let the system know that the files had been pre-approved. "Using online proofing instead of hard proofs from the printer was initially scary, especially for color sensitive pages," Graham says. But after making the transition, "we have had virtually no problems and find the soft proofing to be just as reliable or better."
The hesitation is common. "In the last few years, we have migrated to a 100 percent digital workflow and online PDF proofing [Publishers Press' SimonXpress]," says Johnston of Summit. "The editorial staff was reluctant to give up hard proofs but became comfortable within a few issues."
Transcontinental continues rolling out an online job submission, preflight and approvals management system (dubbed The Job Assistant). The service has shrunk NJ Family's turnaround time—from file delivery to delivery of finished product—from 11 days to eight, according to Stephanie Hoare, creative director at the magazine. "We've been able to implement the Job Assistant program without requiring any new hardware or software, which is a huge benefit," says Hoare.
Blood-Horse Publications switched to an all-PDF workflow in 2006. "One of the first steps was to change the layout software from Quark to InDesign," says print operations manager Lisa Coots. "We also purchased TWiST software from DALiM, which processes our files and enabled us toincrease our productivity and give us a more efficient workflow."
TWiST helps Blood-Horse check color bills and file dimensions. Blood-Horse's printer, Publishers Press, uses a DALiM module as well. "Our systems communicate well together," says Coots. "It's a faster process on their end as well." Blood-Horse has invested about 1 percent of annual revenue into the DALiM software (and that doesn't include additional investment in InDesign and desktop publishing software). "It will pay for itself quickly in the man-hours we're saving," says Coots.
Another plus, on top of cost and time savings, is the ability to check proofs remotely. "If a last minute change happens in the evening on press night we can view the page at home as [it] is is Web-browser based," Graham says.
The ability to work remotely is apparently a big selling point for many publishers. "Allowing local or remote users to approve pages provides disaster recovery and business continuity in allowing for remote, off-site continuity in the event of natural or geographic interruptions," says David Tompkins, preflight operations director at the American Association for the Advancement of Science, which publishes Science.
Tompkins helped switch Science to an automated workflow, based on PDF/X-1a, in 2001 and estimates savings of about $300,000 a year. He worked closely with Brown Printing, which uses a system based on DALiM MiSTRAL software.
"The system automatically performs most of the tasks associated with a CSR (Customer Service Representative), all done in real time and for multiple publications," says Tompkins. "At any time we can deliver files for any current or future issue and check the form or page status. It really allows us to remotely administer our publications."
Tompkins' next endeavor is a move to a full round-trip XML workflow in the coming months which he says will likely cut production time for Science in half.
The Next Step for Ad Portals
Ad portals are an integral part of the digital workflow and, according to some, DALiM MiSTRAL is helping to take them to the next level. Niche Media, publisher of luxury regional magazines such as Gotham, Hamptons, Vegas and LA Confidential, recently launched an ad portal called SendMyAd, also based on the system.
One of the biggest advantages of this portal, according to Niche's director of manufacturing, digital imaging Shawn Lowe, is that it works in real time. Niche had originally installed a portal that preflighted files but not live in front of the advertiser.
"If you were an art director and sent an ad, the system basically said, 'We have your ad,' but, what if you had five jobs on your desk and you're told later, 'Your ad failed'? The art director had no idea of what ad failed or why it failed. We ultimately had to answer a lot of questions and had to pay for multiple uploads," Lowe said when the new portal launched. "It was taking too much time from our staff and confusing our advertisers."
Now, according to Lowe, Niche won't have to add more than one or two people to its production staff even though its ad pages have tripled due to recent acquisitions.
Further upstream in the workflow, the portal integrates with Niche's external ad booking systems to receive ad insertion orders automatically. Down the road, Niche is hoping to be able to drop ads delivered to them directly into Brown Printing's b.direct system without intervention.
Hearst Magazines also recently announced the launch of an end-to-end portal, from graphic arts service provider HudsonYards, which it hopes will make the advertising process more efficent.
"The print system gives us lots of control and oversight of the entire ad trafficking process and makes for a very streamlined, easy-to-use workflow," said Hearst Magazines vice of production Laura Reid.
What Does It Take?
Advanced technologies are great for saving time and money, but what do they take to implement?
For Guy Gleysteen, senior vice president of production at Time Inc., implementation takes a willingness to challenge existing business norms and demand new terms from printers. "If you can't see the wider business case, these technologies look to add to your cost."
But demanding new terms isn't necessarily simple, as printers are also investing heavily themselves. According to Johnston of Summit, it's important to be aware of what your printer is working on. "They explore and invest in technologies that will improve workflow. These have to be communicated with us, the customer, so that we can take advantage of these technologies," he says.
Sometimes, finding the capabilities that work best for your business may mean moving things around. Haymarket Media recently moved some of its publications to different plants while still working with R.R. Donnelley. "We evaluated the average print runs at the plant, their capabilities to tip, polybag, etc., against the magazine specs. It has helped us realize where maybe the publication wasn't a right fit for that plant," says Graham. Now, she adds, the process, quality and service are much better than before because each Haymarket publication is in the best place for its specific needs.
The Need for Flexibility
Scheduling continues to be one of the greatest challenges in magazine production. "Lead times are shorter than they have ever been, but publishers still need to meet shipping schedules," Kealy of Penton recently said. "A good printer needs to accommodate last minute changes."
"Time is the enemy," Summit's Johnston says. "There is a continual push to delay ad closings to accommodate sales, delay editorial close to get in last minute stories and edits and still get final files to the printer on time to hit our mail schedules."
According to Graham, this can be especially problematic for co-mailers. "With changes to page count, supplements and even internal staff vacation and sick time, our schedules can be very tight and require constant communication with our print customer service rep to make sure we are always on the same page."
Swapping Responsibilities
Lebhar-Friedman has completely undergone a PDF/X-1a workflow and assumed many of the functions that its printer used to handle. "In the past year and a half, we've integrated all fractional ads on pages, which is something we used to outsource to our printer and we're archiving our ads internally," says executive director of manufacturing Rich Zweiback.
That means a new round of responsibility for the publishing staff. "The challenge is training our internal production staff to handle some of those functions as well as changing the culture of the company to rely on some other departments for the integration of the fractional ads," says Zweiback. "We've had to involve our edit desks to a point with that. Changing the culture to have those print functions become part off their responsibilities."
It may have been a dramatic move on the staff level but it's paying off for the company: Zweiback says that by doing so Lebhar-Friedman has saved well over 50 percent of its former prepress costs.
SIDEBAR: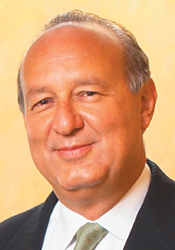 Redefining the Role of Print
Outgoing ABM Chairman: "The current magazine model won't take us into the next five years, let alone the next 100 years."
The tagline for American Business Media's Spring Meeting last month was "New Paths To Success" and while much of the conversation revolved around the expected topics of video and social media, the changing role of the print product accounted for much of the conversation as well. "There's a lot of talk about Web 2.0 but there is very little talk about Magazines 2.0," said Hanley Wood CEO and outgoing ABM chairman Frank Anton. "If the magazines published two or three years from now aren't different, we're in trouble. The current magazine model won't take us into the next five years, let alone the next 100 years."
Magazines need to be re-thought from editorial to circulation to folio size, according to Anton. "We need to let readers decide the content—instead of one version for 100,000 readers maybe we do a lot of custom versions," he added. "Circulation needs to be reviewed. It's bloated—in some cases by 60 percent or more. Maybe we need to move away from controlled circulation and have people pay for products."
Nielsen chairman and CEO David Calhoun said magazines have to be approached in terms of how they complement other media. "I don't believe publications are going away but if they don't understand their role in relation to other media, they will lose," he said. "I hate reading about one form of media losing out to another and print is always thought about in terms of competing with other media. In the evolution of the magazine, print will have to assume a role in the bigger scheme. What are its interactions with other media? Each reinforces the other."
Limiting Magazine Size and Sponsorships
Thick magazines may indicate publication health but they may not be serving time-pressed readers, according to Anton, who says publishers should start thinking about limiting folio size.
"Our biggest magazines going forward will be 96 pages," says Anton. "Publishers should consider exclusive sponsorship to one advertiser rather than selling many window advertisers."
Meet the Author
---