Ad Tech Company PubMatic Scores $45 Million in Funding

Capital will be used for more acquisitions.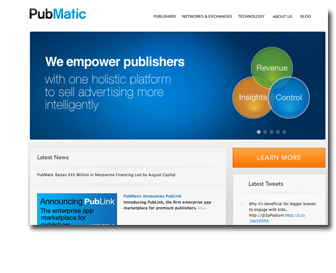 Digital ad tech company PubMatic announced this week that it raised a big chunk of funding— $45 million—led by August Capital. The infusion, says the company, will allow it to fortify its balance sheet, but also continue to make acquisitions in a market that is clearly heating up.
PubMatic's current investors—the company raised a $7.5 million series C in 2010, at the time brining total capital investment to $18 million—Draper Fisher Jurveston, Nexus Venture Partners, Helion Ventures and Silicon Valley Bank were also part of the mezzanine deal.
The company helps publishers manage and sell their ad inventory through a real-time bidding engine. According to PubMatic, revenues have shot up 150 percent year-over-year, and it recently launched PubLink, a mobile monetization platform.
Depending on your perspective, the at tech market is either consolidating, and PubMatic's acquisition plans bear that out, or there are some public offerings in the near future—or both.  "The marketing automation landscape is overly fragmented with too many point solutions," notes PubMatic co-founder and CEO Rajiv Goel in a statement. All Things D's Peter Kafka points out that Google bought PubMatic competitor AdMeld last year and two other big ad tech firms AppNexus and the Rubicon Project are jockeying for a public offering.
If a deal for any of these players is in the offing, reports are pointing fingers at Yahoo, Microsoft, Amazon and AOL as potential, and deep-pocketed, buyers.
Last November, Condé Nast partnered with AdMeld to form its own private ad exchange, signing eBay and Macy's as its first customers.
Meet the Author
---