Magna Global has released its forecast for advertising revenue, predicting that U.S. media owners' ad revenues will grow by 5.1 percent this year, to $167 billion. This predicted level of growth will be the highest in 10 years, and will bring the U.S. ad market to a new all-time high of $172 billion.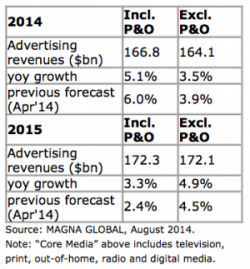 Magazine ad sales are predicted to continue to decline, with -10.9 percent expected by the end of 2014 and -9.4 percent in 2015.
The forecast for 2015 has increased to +3.3 percent from the previous +2.4 percent. With the effect of political and Olympic ad campaigns excluded, the forecast reaches +4.9 percent.
Market growth slowed significantly in 2014 with most traditional media flat or down when considering year-over-year after a strong first quarter. However, Magna Global says that second quarter "softness was mostly circumstantial and stronger advertising spending growth should resume in 3Q and 4Q," according to the report.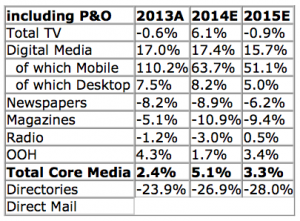 Television was among the categories most affected by the second quarter slowdown, but digital media is forecast to grow by 17.4 percent this year. Specifically, mobile ad sales are predicted to grow by 64 percent, versus +8 percent desktop-based advertising. According to Magna Global, digital media will reach a 34 percent market share in 2015, driven by a 32 percent growth in social and +51 percent in mobile. Digital media is expected to outgrow television by 2017 with a 38 percent market share of $72 billion.