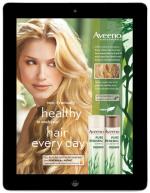 A recent study released by GfK MRI Starch Advertising Research found that ad recall on tablets is equal to print magazines.
The study tracked reader recall of 28,624 advertisements in 805 tablet consumer magazines published in 2013. The average level of audience recall for both tablet and print magazine ads in 2013 was 52 percent. The study also states that the top "noted" digital ads were recalled by over 80 percent of readers, equal to the most "noted" print ads.
Joe Bilman, chief digital officer and global head of business development at American Media Inc., says that these finding are in line with his company's ad recall measurement. "We track ad recall on a regular basis with a panel of readers, several thousand by title, and we find no difference between tablet and print," he says. "It's always very close to equal or slightly better for tablets versus print."
AMI, publisher of Shape, Star, Men's Fitness and more, recently released a tablet app called InPrint, featuring 13 titles for a 99-cent monthly subscription as an introductory price. The company also measures other forms of engagement on tablets in addition to tracking ad recall. "We track everything," Bilman says. "What content is most popular, most shared, the viewability of the articles. We track full usage."
According to the study, readers also see value in advertisements in digital formats. Among those who recalled at least one ad in a digital magazine, 62 percent agreed with statements such as:
"The interactive features help me learn more about the products/services,"
"The ads in this publication are valuable sources of new information," and
"I read this publication as much for the ads as for the articles."
 These findings suggest some good news for publishers, given the steady decline in print ad revenue. Not to mention the 1.7 percent decline in print circulation, according to the Alliance for Audited Media, which is only slightly offset by digital edition subscriptions that rose about 37 percent. But that segment still only accounts for 3.5 percent of total circulation.