Globally, close to 200 million Internet users are using ad-blocking software, and that number is expected to keep growing rapidly. As magazine media looks towards new ways to counter losses in print ad sales through programmatic selling and other digital ad products, ad-blocking software poses a paramount challenge.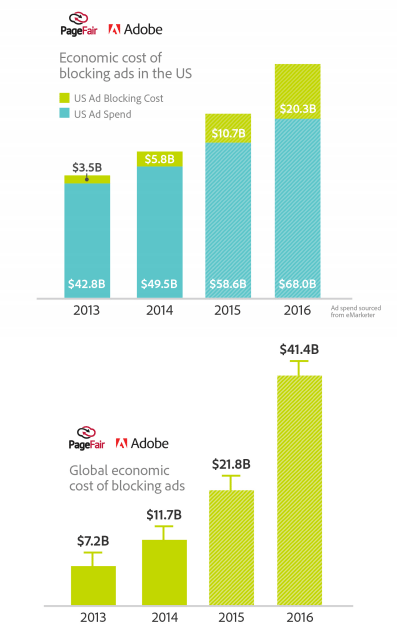 According to a recent report from PageFair and Adobe, ad blockers are catching on quickly and accounting for massive losses in potential ad revenue. In just one year, the number of average monthly software users increased 41 percent between Q2 2014 and Q2 2015. In the U.S., the adoption rate grew even faster at 48 percent, which accounts for 45 million monthly active users.
More troubling than the adoption rate is the lost revenue at stake. The report says that the global loss of ad dollars due to ad-blocking software is an estimated $21.88 billion and $10.78 billion in the U.S. alone. That's roughly a quarter of the cumulative earnings of the total U.S. magazine industry.
One silver lining for publishers (for now) is that mobile ad blocking is still in its infancy, accounting for less than 2 percent of all blocked ads. Fortunately, most publishers are starting to capture half or more of their pageviews through mobile traffic, so as that migration continues, the loss of ad dollars on desktop could be offset. However, it's not unreasonable to expect ad blocking to become more common on mobile devices in the near future.
The report concludes that mobile will likely be the next frontier for ad blocking and that the software's adoption rate will continue to climb. With that in mind, the writing on the wall seems clear: Digital advertising's future is in serious jeopardy.
Could that mean that print advertising will have resurgence? Or does it mean that magazine media will lose out on even more ad spend? For now, it's anyone's guess.