Activists Vandalize Elle's Green Issue

Hachette says retraction stickers not 'generated' by the magazine.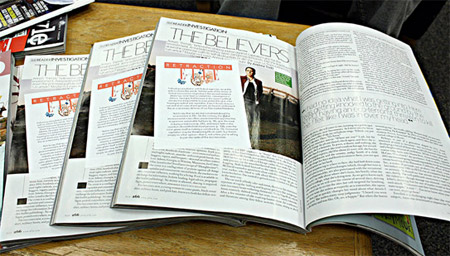 It appears that Elle magazine is the victim of a sticky prank.
According to a post on environmental gossip site Ecorazzi, "Retraction" stickers were placed inside several copies of Elle's green issue on a story called "The Believers," an investigative report that examines the eco-extremist movement through the story of a teenage FBI informant.
Printed on the stickers, according to the post, is a statement related to the story claiming it contains "factual inaccuracies," and gives a "fair hearing to radical anti-capitalists."
A spokesperson for Elle's parent company Hachette Filipacchi Media U.S. tells FOLIO: that that the stickers "were not generated" by Elle, and that the company is investigating the situation.
It was not immediately known how many magazines were apparently vandalized, or which group may be responsible for the apparent prank. Elle has a 1.05 million paid and verified circulation.
Elle's May issue—on newsstands now—is the magazine's third green issue.
According to the most recent Publishers Information Bureau numbers, Elle pulled in $71.8 million in ad dollars during the first quarter, up 10.9 percent over the same period in 2007. Ad pages reached 583, up 5.7 percent from first quarter last year.
[IMAGE CREDIT: Ecorazzi]
Meet the Author
---