UPDATE: Active Interest Media Buys Nine Equine Magazines, Seven Web Sites

Enthusiast publisher to create Equine Network.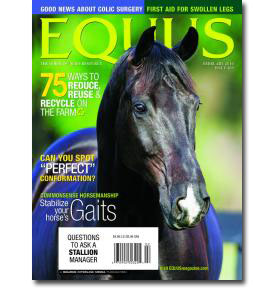 Enthusiast publisher Active Interest Media has acquired several equine-related magazines and Web sites from Source Interlink Media and from Louisville, Colorado-based Horse Media Group. Financial terms of the deals were not disclosed.
From Source Interlink, AIM acquired EQUUS, Horse & Rider, Practical Horseman, Dressage Today, Arabian Horse World, Discover Horses and EquiManagement print magazines. Source's online properties included in the deal are Equisearch.com, Equine.com, HorseBooksEtc.com and DiscoverHorses.com.
From the Horse Media Group, AIM purchased Spin to Win Rodeo and Trail Rider magazines as well as MyHorse.com, HitchUpMagazine.com and HorselinkMagazine.com. Horse Media is a partnership between Belvoir Media Group and Winsor Publishing.
According to AIM CEO Skip Zimbalist, the world of horses is "a quintessential enthusiast market" and matches the publisher's strategy and capabilities." Andy Clurman, AIM's COO called the purchases a "rare opportunity to bring together two great publishing groups, their leading brands, and excellent teams to serve horse enthusiasts."
AIM's American Cowboy magazine will now join the acquired equine
properties under the newly-created Equine Network. Previously, American
Cowboy was managed by AIM's Western Living/Outdoor Group—including
Backpacker, National Parks Interactive and Specialty News—which now will
be called the Outdoor Group.
UPDATE: In association with the acquisitions, AIM said Thursday that Horse Media Group president Tom Winsor will serve as general manager of the newly-created AIM Equine Network. Bill Garrels, publisher of American Cowboy, and David Andrick, associate publishing director of Source's former equine group, have been named group publishers for the network.
Jonathan Dorn, editor-in-chief of AIM's Backpacker, has been promoted to general manager of the company's Outdoor Group. Backpacker publisher Kent Ebersole was promoted to group publisher and production director Barbara Van Sickle was elevated to group production director.
Seperately, Black Belt publisher Cheryl Angelheart was promoted to group publisher of the Black Belt and Vitamin Shoppe Muscle & Performance brands.
An AIM spokesperson said the company will continue to publish all nine print magazines and to produce the online properties associated with the acquisitions. Some staff integration will take place as a result of the purchases, the spokesperson said.

Meet the Author
---