Active Interest Media Buys 3 Titles from Robert Kennedy Publishing

Canadian brands acquired in cash through bankruptcy auction, moving to U.S.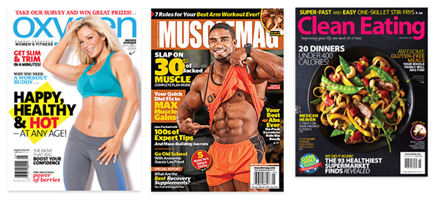 Enthusiast publisher Active Interest Media has acquired three titles from Robert Kennedy Publishing, based in Ontario, Canada. Included in the cash deal are women's health and fitness title Oxygen, recipe and nutrition magazine Clean Eating and MuscleMag International.
Robert Kennedy Publishing parent Canusa declared bankruptcy in June 2013 and AIM bought the three brands in cash through an auction process that kicked off in July.
Andrew Clurman, AIM's president and chief operating officer, says the company has been quietly building up its health and fitness division, anchored by its Yoga Journal and Vegetarian Times brands.
"We track everyone who's in our competitive neighborhood and we've been aware of and kept an eye on Clean Eating and Oxygen," says Clurman. "We were impressed with the newsstand and subscription sales, both have been growing—the right way, not through artificial means."
Oxygen is currently at about 125,000 subscribers, with an additional 60,000 in newsstand sales. Clean Eating has 140,000 subscribers with another 80,000 sold at retail. And MuscleMag has about 50,000 readers with 32,000 subscribers and 18,000 single-copy sales.
Prior to this deal, AIM's healthy living group also included martial arts title Black Belt, Muscle & Performance, Better Nutrition, Amazing Wellness and The Box, a magazine for enthusiasts of the CrossFit style of exercise.
Amazing Wellness and Muscle & Performance are both custom published for and distributed through The Vitamin Shoppe.
The deal is characterized by a particularly traditional media framework, but Clurman says AIM's approach has been to launch, or buy, a magazine and then surround it with a diversified platform.
Prior to the acquisition, 42 percent of AIM's revenues were advertising sourced (print and digital), with the rest coming from events, services and book and product sales. "This [deal] will increase our print advertising quotient, but our goal is to then diversify around these brands," says Clurman.
Most of the existing staff from the Kennedy titles were displaced as a result of the bankruptcy, but AIM is working with a firm in Toronto to restart the business and move some of the staff to the U.S.
Oxygen and MuscleMag International will be moved to AIM's California office, while Clean Eating will start operating out of the Boulder office.
Meet the Author
---