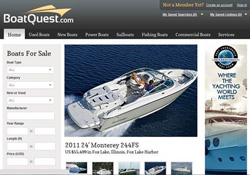 Active Interest Media has acquired BoatQuest.com, adding the online classified page to its portfolio of properties, which includes Yachts Magazine and Show Management.
Active Interest Media was founded in October 2003, and BoatQuest.com began in 1999. Currently, BoatQuest.com serves users looking to buy and sell boats that measure below 35 feet. BoatQuest.com also features special pricing for select services for Show Management and Yacht Magazine advertisers.
Active Interest Media (AIM) includes enthusiast magazines, consumer shows, videos, websites and books. Areas of interest covered by AIM include martial arts and log-homes.
Mike Dickman, GM of BoatQuest.com, said, "By combining online media with major boat shows and a traditional yachting magazine, our goal is to provide a new level of cross-promotion, previously unavailable in the industry, for boat sellers and buyers to connect with one another."
Show Management produces five boat shows, as well as coordinating other events, throughout the year. Yachts Magazine covers international yacht news in print and digital form.