Action Codes Continue to Gain Traction in Magazines

Top 100 magazines by circulation featured 2,200 codes in the second quarter.
QR codes and their ilk continue to rise in usage by publishers, according to a study out today by mobile marketing and technology services company Nellymoser. In the second quarter, the top 100 magazines by circulation featured a variety of mobile action codes in 2,200 instances, a 61 percent jump over the first quarter this year.
The study doesn't track scan rates or actions taken post scan, but the printing of QR codes, digital watermarks and other action codes is definitely on the rise—in the first quarter of 2011, there was a comparatively modest 352 codes printed. And, at the end of first half 2012, the number of action codes printed is already coming close to the 4,468 that were printed during all of 2011.
See Also: Mobile Action Codes Increased 439 Percent in Top 100 Mags Last Year
While the instances of codes appearing in the top 100 magazines went from 1,365 to 2,200 the number specifically appearing in advertisements also jumped, going from 5 percent of ad pages in the second quarter 2011 to 10 percent this year.
For the first time all 100 of the top magazines featured at least one action code. And of all the codes, QR codes are still the most prevalent, with more than 80 percent market share since December 2011.
The beauty, health and automotive categories accounted for 49 percent of all action codes in the second quarter, with automotive more than doubling its use of codes between the first and second quarter.
Video continues to be the most common use for action codes, with 40 percent of codes leading to a product demo, behind the scenes look or some other clip. Sweepstakes and social sharing were also heavily used at 20 percent of instances.
For more, see the full study here.
Action Codes by Quarter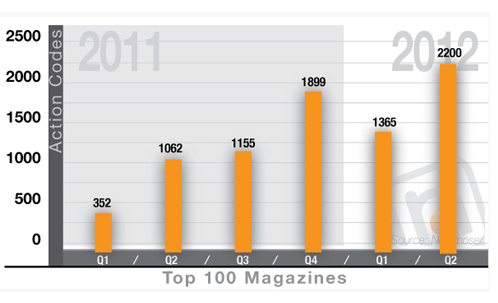 Source: Nellymoser, Inc.
Meet the Author
---