Acquisition Triggers Major Edit Changes at Forbes

Forbes Media to buy True/Slant; founder to serve as chief product officer.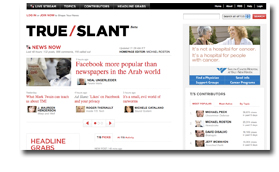 An acquisition is triggering a major editorial initiative at Forbes Media. The company has agreed in principle to buy True/Slant, an online news and community network. As a result, True/Slant founder Lewis Dvorkin will take the position of chief product officer with responsibility over all of Forbes's editorial products.
The connections between Forbes and True/Slant, which launched a year ago, are well established. Dvorkin was executive editor of the magazine from 1996 to 2000; Forbes had an investment in his startup; and Dvorkin was hired in April as a consultant.
Terms of the deal were not released.
True/Slant will be brought in-house with the intention of revamping much of Forbes's approach to content. While Forbes president and COO Tim Forbes said in a statement that the "Forbes mission and message will not change," Dvorkin, in his own statement on the deal, has some pretty lofty goals:
"The small True/Slant team, with more than 100 years of Web, publishing and TV experience, will now be working side-by-side with talented and dedicated journalists at Forbes Media. The goal: to work together to further develop a mindset around the power of the Web and traditional news values. With hard work, we can implement new blogging platforms and more efficient digital, print and video content creation models; we can find better ways for audiences to engage with news and information; and we can pursue new integrative approaches for marketers and advertisers."
In more concrete terms, the Forbes announcement says that, under Dvorkin's leadership, Forbes.com will be re-architected and the magazine will be redesigned.
Of the more than 300 contributors that True/Slant relies on for content, some will possibly continue within Forbes. "As True/Slant transitions, some of you may be interested in moving with us to Forbes," says Dvorkin in his statement. "We look forward to discussing the possibilities with you."
Meet the Author
---