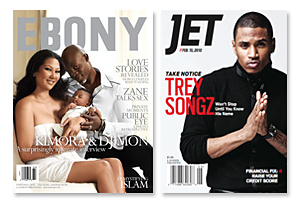 A bid that would have had basketball hall of famer Earvin "Magic" Johnson buying Ebony and Jet publisher Johnson Publishing has fallen through. In a statement issued Monday, Johnson, who serves as chairman and CEO of Magic Johnson Enterprises, said his company was unable to reach a deal to acquire the Chicago-based magazine publisher.
"Recently, an affiliate of Magic Johnson Enterprises and Johnson Publishing Company were in advanced discussions to do business together, but unfortunately we were unable to reach a definitive agreement," he said. "We will continue to look for opportunities to invest in African-American media."
Here's what Johnson Publishing said in a statement e-mailed to FOLIO:: "Our team of advisers have continued to explore a wide range of options to leverage our iconic Ebony and Jet brands and sustain our leadership position in the marketplace as the number one African-American-owned publishing company in the world. As a privately held company, we are unable to discuss specifics of our discussions with potential partners."
Eric Holoman, president of Los Angeles-based Magic Johnson Enterprises, said in a February 12 interview with Bloomberg that there had been discussions between Johnson and the publisher about an acquisition but no deal was in place.
"Magic" Johnson is famous for leading the Los Angeles Lakers to five National Basketball Association championships in the 1980s and for his ongoing rivalry and friendship with Boston Celtics forward Larry Bird. Magic Johnson Enterprises was founded more than two decades ago and has partnerships with several companies including T.G.I.Friday's Inc., 24 Hour Fitness Worldwide Inc. and Starbucks Corp.
In the face of a difficult magazine market last year, Johnson Publishing recently revamped the editorial brand strategies at Ebony and Jet in an effort to attract new, younger audiences as well as to position the company as the go-to source for news and entertainment with a "unique black point-of-view." In 2009, Jet saw ad pages fall 35.5 percent compared to 2008, according to Publishers Information Bureau figures. Ebony's year was even worse, with pages plummeting 38.9 percent from the prior year.
"I would like to salute [Johnson Publishing CEO] Linda Johnson Rice and the Johnson family for pioneering the iconic brand of the Johnson Publishing Company, which we have all come to love and respect," Johnson also said in the statement. "Ebony and Jet have been permanent fixtures on coffee tables in African-American homes for many years."