Acquisitions allow companies to make rapid changes to their corporate structure and are often a way to play catch-up with a marketplace that's moving faster than organic growth can keep up. The call for diversification has been going on quite a while now and it's no big secret that print advertising, by itself, is incapable of the scale publishers need to survive. Accordingly, publishers have been acquiring companies with surgical precision that allow them to quickly enter a market that's tangential to magazine publishing, but far enough outside their wheelhouse to be considered nontraditional—digital, mobile, marketing services, for example. And as these acquisitions are being made, the model of magazine publishing itself is being changed. And we wanted to look at how these deals not only change the buyer, but the seller too, and what this means for an industry that once only had one thing to do: Print magazines.
Two companies have historically been singled out for making key acquisitions that have, along with continuing to build out and expand their core media expertise, quickly given them significant market share in marketing spending outside of print—Meredith and Hearst. Here, we dive into their key acquisitions to see how the companies have changed as a result, the value that's being created, and how the companies they acquired have also changed.
The Shift From Offline to Online
Nothing has inspired the necessity to chase nontraditional deals than the rapid shift of marketing dollars from print to digital channels. And now, even digital has fractured into social, mobile and search marketing spending, to name a few. Meredith was one publisher that recognized this relatively early and in the last 5 years has spent roughly $110 million on six companies to form its Meredith Xcelerated Marketing Group (MXM).
The group is kind of like an in-house advertising and marketing agency that allows Meredith to offer marketing services way beyond what its core media brands can offer by themselves. Yet having those media brands in close proximity to these new services allows for tremendous leverage and scale for the acquired companies as well.
Meredith had been offering "custom publishing" services to the tune of $75 million in annual revenue for 35 years before MXM, but the market was quickly changing in ways that print-centered custom solutions could no longer support. It was time to start buying, and fast.
"It became clear to us that the marketing dollars would start moving from offline to online," says John Zieser, chief development officer and general counsel for Meredith Corporation. "We knew we needed these competencies and it was better to acquire them for a few key reasons: We needed them, the market was moving quickly, we had to get to market. In our minds it was better to buy businesses that had a track record of serving clients."
Bootstrapping Is Too Slow
With the market changing so quickly and with huge accounts in the balance, Zieser and the rest of the executive team weighed the risks of a bootstrapping, entrepreneurial approach versus buying established expertise with an existing track record. "It's really about how do you focus on delivering these competencies to our clients in a top-quality way?" he says. "If you find the right target, that's a much more intelligent approach in our world, which is moving quickly. To me, as a corporate executive, it's a lot less risky approach than trying to start something from scratch and putting it front of a Nestlé or Kraft and hoping it all works."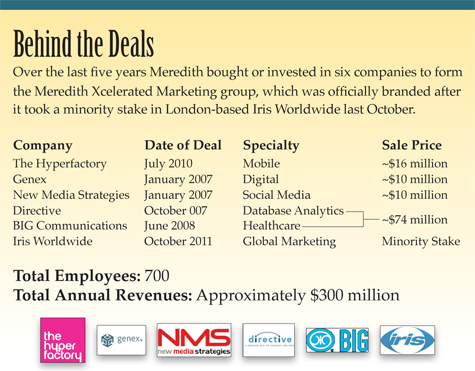 Impacting the Traditional Model
While MXM operates as its own group, now making about $300 million in annual revenues (a far cry from Meredith's custom publishing days), it has also had an impact on Meredith's National Media group as well. The various companies that make up MXM now have a deep well of mass media-branded content to draw from and support their marketing services, and Meredith's brands benefit from having a cutting-edge agency within arm's reach. "Having cutting-edge marketing services is very useful—we often have National Media people sit in with pitches. We've also developed a profile of a company that is much more attractive to our clients than if we were to just stay in our traditional publishing role, there's a halo effect as a result of these development activities," says Zieser.
A unit within the National Media group, called Meredith 360, made up of executives attached to the big, national clients, also meets regularly with MXM and keeps them apprised on the strategic needs of the larger accounts. "It's a useful pipeline to understand what our clients are looking for outside of traditional advertising," adds Zieser.
Now, integrated marketing programs can run $1 million to $2 million per discipline (mobile, digital, social, etc.), but can run upwards of $10 million for a 12-month program across them all, some much higher.
Treading Lightly
In forming MXM, Meredith had a tight line to walk as each company was gradually integrated into the group and the company as a whole. In all cases, Meredith acquired entrepreneurial-run operations that were on the verge of stepping up to the next level and needed a bigger partner to make that happen. The owners didn't want to totally liquidate and exit, and most of the deals were built on three-year earn-out models to keep the primary shareholders motivated and incentivized.
Nevertheless, the acquired brands had standalone value, and integrating them into the mothership too quickly could dilute that value. "We were very careful. These businesses are people businesses that have intellectual property—it's human capital and expertise in that particular discipline. We were very careful about not integrating those businesses too quickly and not jeopardizing what made them special. But we were integrated from a revenue perspective very quickly," says Zieser.
Geoffrey Handley, co-founder of Hyperfactory, a mobile marketing agency Meredith acquired in 2010 for about $16 million, saw what was going on with his competitors as traditional agencies scooped them up and integrated them into oblivion. "We didn't want to be part of a traditional media holding company. In most cases, our competitors would become their mobile division for a while and then would disappear when it got too confusing or messy," he says. 
Instead, Handley liked the way Meredith had been providing autonomy to the units within the broader confines of MXM. "Over the course of a number of agencies, we were one of the last [to be acquired] so we were able to look at what they had done and they provided them with some autonomy to grow and pursue the market in the ways they do best," he says. "We were encouraged by that fact, but we also saw they were working with each other and Meredith on larger client business."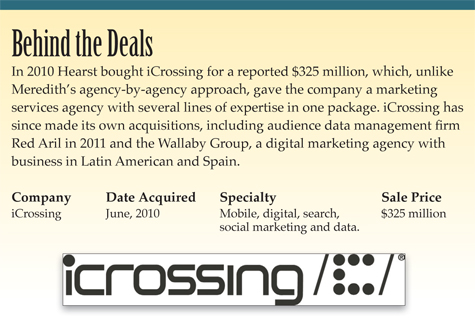 A Gradual Merger
Now, the trick will be to pull the six agencies into a more cohesive unit and expand business in a way that doesn't dip dramatically when one or two huge accounts scale back business. In the fiscal third quarter, MXM dropped $12 million in revenues as some accounts pinched their spending for that period.
The minority investment in London-based Iris Worldwide, done in October 2011, was specifically done to expand MXM's reach globally and also kicked off a formal debut of the MXM group brand. "We have established this position in the market place where it's less important for us to use individual brands than it is making it clear to the market that we are a holistic marketing services business," says Zieser.
The One-Shot Deal
Hearst has also bought its way into integrated marketing services, with the acquisition of iCrossing two years ago for a reported $325 million. Yet this deal all at once gave Hearst one agency with a nine-figure revenue stream, a global presence and multiple service lines—search marketing, SEO, Web development, social media, mobile and research and analytics.
Much like Meredith, Hearst recognized the shift in marketing spending from the very partners that have supported the company's print assets for so long. "At a broad level, we look at where clients are spending and how they're spending," says John Loughlin, executive vice president and general manager of Hearst Magazines. "And as a media-centric company, we love the fact that advertising continues to fuel the machine, but we are also aware of below-the-line spending—marketing spending—that has been growing more quickly than advertising over the last five years and will continue to grow faster."
A Service Orientation
This, says Loughlin, was one of the key triggers to acquire iCrossing. The second was its service orientation. "We like service businesses," he says, pointing out the company's ownership of CDS-Global, which itself has expanded into new services beyond magazine fulfillment, including order management, integrated bill payment and presentment and so on. "These kinds of businesses balance out the ups and downs we've historically seen in the media space."
In order to establish itself quickly, Hearst also needed a target that had a proven track record, an established list of big, global clients and hefty revenues. Buying small and scaling up would take too long and wouldn't provide a quick enough financial impact. "The acquisition was driven by jumpstarting our entry and that required scale," says Loughlin. "It required credibility, which iCrossing has in its dozens and dozens of Fortune 500 and 1,000 companies. And it came with an infrastructure and a market place presence and it was a market leader. The other reason was we are a large company and to have a meaningful impact on the revenue and profits of a larger company, buying something like iCrossing allowed that impact to be felt more quickly."
Hearst brought its infrastructure to bear on iCrossing, but, like Meredith, did not fundamentally change its market approach. But iCrossing has since grown from 450 employees to 750 and last September bought the Santiago, Chile-based Wallaby Group, a digital marketing agency with business in Latin American and Spain. If there's a sub-theme here, it's global expansion.
Impact Across the Brands
Yet iCrossing has had its presence felt across the Hearst brands, particularly in search and social—a key focus for publishers across the industry. "We have deployed iCrossing for a number of our brands both in terms of search but also social development of our relationships with our customers. They do that for a living and we do content for a living," says Loughlin.
On the flip side, iCrossing can leverage Hearst content in its projects for clients that want to cut their teeth on content marketing. In a sense, Hearst and iCrossing are diffusing the "everyone's a publisher" trope that's been conspiring to suck the air out of display spending. "They have been tapping into our historical resource base, meaning writers, editors and photographers as well as our archives in adding to their clients' Web sties and brand development, helping them talk to their customers in an authentic voice. There's a lot of that that's occurring on a daily basis and I see the integration just like a fine wine, there is a certain maturation process and the two organizations have, in a very organic way, been working more closely together and yet retain things that keep them successful in their own right," says Loughlin.