ACP to Relaunch 13 Construction Titles

Former owner acquires ex-Reed titles and revives local focus.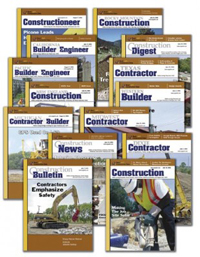 Reed Business Information's former regional construction magazines are set to live again in print.
In April, RBI shuttered all but one of the magazines published under its Associated Construction Publications Group, which consisted of 14 regional construction titles. That created an opportunity for John White, the original co-owner of the ACP titles (which were started by his ex-father-in-law), who continued to publish a newspaper for commercial construction in Indiana.
"I called Reed and spoke with one of the VPs who was willing to see if there was interest in selling," White told FOLIO:. "I didn't need much for due diligence. It was basically, 'You can have what's here, you get what you get, do it quickly because we want it out of here.'"
ACP now has 12 full-time employees, with nine former employees doing freelance edit and production work. The company also brought back editorial director Greg Sitek.
In late July, ACP re-launched Construction Digest and New England Construction. In August, it plans to bring back six more titles, and have all 13 up and running by September.
Reed held onto Construction Bulletin magazine.
The deal was done as a license agreement through the end of 2009, with White having the option to pick up everything in January. While he wouldn't reveal specifics, White says his group sold the titles for $21 million about 15 years ago (the magazines went through several owners before landing at Reed). "We didn't pay nearly that much this time," he added. "This was good for Reed because it helped them cover a lot of their shutdown costs."
White is facing a new reality with the magazines. At the time he sold them, collective revenue for the ACP titles was around $19 million. With the 13 he has now, he's expecting about $5 million in 2010. "Give me six months and we can give a better answer on the potential," White said, adding that his smaller operation could see greater profits than it did under Reed. "When you're part of a larger corporation, there are many layers of overhead put on the magazines. We don't operate that way."
Re-Focusing On the Local Market
One priority for White is getting ACP back to its roots in local coverage. "Reed was focused more on national manufacturer sales because those were bigger dollars," he said. "They tried selling locally over the phone and eliminated the local sales presence. That had been the heart and soul of the ACP magazines. We've tripled the sales team at the local level and we're getting very good response from our old customers but we've had people tell us that if we weren't going to make those commitments to local coverage we'd be better off leaving the magazines to die."
 
So far, ACP has attracted advertisers such as Volvo and LBX. "Many of these advertisers had already re-allocated the 2009 budget for these magazines but when they saw what we were doing, they found a little more," said White. "It was their way of saying, 'We're glad you're back, here's what we can do to support you while you're ramping up.'"
ACP is changing both the format and design of the magazines. Weekly and twice-per-month magazines will go monthly, and will grow to tabloid-size with larger, full color graphics. "When you're competing with digital media, my experience is that you've got to have something visually appealing as well as good editorial," White said. "Rather than have people toil through small print, if we can put better graphics/pictures along with well written stories, that will attract readers."
Once the print products are live, ACP will then turn its attention to ramping up Web and live events. "We partner with a lot of associations and other groups that do events," White said. "That's what they do well. If there are opportunities for us to get into events where we can sponsor or put them on, we have capabilities to do it. I'm a huge believer that print is here to stay. We will invest in those e-media initiatives that make sense but very few of our readers are sitting at their desks online all day." 
Meet the Author
---