An Exquisite Corpse of a Magazine

Acido Surtido's acid mix..
Acido Surtido is a remarkable and lovely poster/magazine published in Argentina by a small editorial team with support from the Ministry of Culture. Printing only 2000 copies, I feel fortunate that I have had the opportunity to review a nearly complete run of the stunning mag. In some ways, AS is similar to Lumpen in that both publications are free, both are lovely because of, and not despite of low production values, and both are the product of a cheerful but competitive collaboration among artists. Contributors at AS, I gather, work separately but meet to assemble the final arrangement of panels that make up the magazine. But, unlike the Chicago pub, Acido Surtido (which roughly translates as "Acid Mix") is almost entirely visually driven. AS is, in essence, an exquisite corpse of a magazine—while each issue is based on a theme, how contributors approach the core idea is individualistic, or even idiosyncratic. In fact, a few panels seem included not because they are particularly interesting on their own, but because they make the overall piece stronger by providing white space or a dash of whimsy in an otherwise serious issue.
While AS is both more graphic than literary, and unfurls into a poster (occasionally, one side is devoted to a single image) it is also, in every sense, a magazine. The juxtaposition of various contributor's work create the deep interactions that the best magazines relish in—but here it is image and image rather than text and image that work together. As you unfold AS wonderful little moments occur (like the one below) in a carefully orchestrated interactive experience. The reader feels as if he or she is opening a present or untangling a mystery.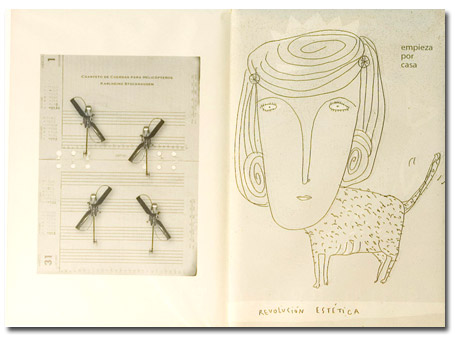 Read and see more here …
Also, below, a link to a whole side of another issue, too large to put on this page and do justice to, based, as it is on the 25″ x 37″ original.
[EDITOR'S NOTE: Buy Jandos' new book!]
Meet the Author
---