UPDATED: Access Intelligence Undergoes Significant Reorg

A deal closes while a staff reduction and a strategic business shift converge.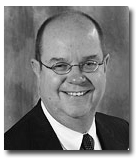 A severe drop in advertising revenue has forced Access Intelligence,
the Rockville, Maryland-based b-to-b publisher in the aviation, energy
and chemical markets, this week to undergo a 5.8 percent reduction in
staff and a realignment of assets to emphasize subscription-driven
products and events—all while closing on a deal that opens up a new market opportunity.
According to CEO Donald Pazour [pictured], the staff reduction—20
employees—was "very broad-based" across markets, but focused on the
magazine and print areas. This occurred simultaneously with senior
management changes and a reorganization of assets which were
consolidated under Business Information division president Heather
Farley and resulted in the departure of Paul McPherson, who headed the
Business Media Group.
No magazines have been closed, says Pazour, although one title is currently under review.
The subscription-based information products and, interestingly,
events are holding up very well, says Pazour. "Our two biggest shows
were up in 2009 versus 2008 and our re-sign is trending for growth
again in 2010," he said.
Print ad revenues are a starkly different story. The first quarter
was an apparently manageable 16 percent drop compared to 2008. By April,
however, the situation changed dramatically when ad revenues suddenly
plummeted to more than 30 percent. Pazour said the declines were
widespread, and not attached to a particular served market.
Accordingly, resources are now being realigned to emphasize the
subscription products and event business—the print-based Business Media
Group and the Business Information Group have been merged together,
says Pazour. "Over 52 percent of our revenue is subscription-based," he
says. "What we want to do is leverage our expertise and infrastructure
to support our business groups in that way."
On top of that, Pazour says the company is set to announce an acquisition targeting a market currently unserved by AI.
UPDATE: The deal closed and AI has bought Contexo Media, a Salt-Lake City-based firm offering information products and software for the medical coding market.
Pazour declined to reveal terms of the deal, but ballparked Contexo's revenues between $5 million and $10 million. The company's offices will remain in Salt Lake City.
The deal opens up a new market for AI, and the brands—almost 100 percent subscription based—will be housed under the Business Information Group headed by group president Heather Farley.
And in an interesting twist, Jerry Okabe, the former VP of audience marketing for Penton Media who was edged out as that company attempted an overhaul of its circ marketing and online audience development groups, will be joining AI as general manager onsite at Contexo. "It's the perfect job for him," said Pazour. "It's marketing and fulfillment and we're delighted to have him on board."
Despite AI's the cost-cutting measures, the Contexo deal is the third one so far this year. The company also bought two events in the energy market.
While the cutting has been a tough process, Pazour is confident the company is
better fortified for what lies ahead. "These things are extremely
painful, they're never easy and they're necessary steps that I dread
for months, but I think we're very well positioned now for the second
half and beyond."
Meet the Author
---