Access Intelligence Shutters Aviation Title

CEO: Category is 'over-published in print.'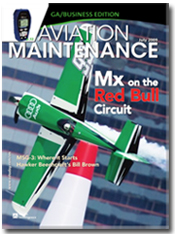 About two weeks after announcing a staffing reduction and a company-wide reorganization, Access Intelligence said it has shuttered trade title Aviation Maintenance.
The August issue will be its last.
The magazine, according to CEO Don Pazour, was no longer profitable to publish in print in the competitive landscape. "With staff leaving Cygnus to launch a competitive title to their maintenance title, and McGraw-Hill in this market, it simply has become over-published in print," he wrote in an e-mail to FOLIO:.
Access, however, is "retaining staff with expertise in maintenance to continue to serve our readers through the maintenance channel of our portal Web site, Aviationtoday.com," Pazour added.
Two layoffs were associated with the closing; one from edit and one from sales.
Aviation Maintenance published a general edition, which published eight times per year and carried and 36,000 circulation, as well as a commercial edition, which printed four times annually with a 17,000 circulation.
Meet the Author
---