Access Intelligence CEO Don Pazour: 'Audience is King, Content is Queen'

In the last 12 years, a new model has evolved for b-to-b media companies.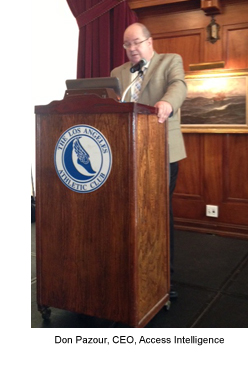 There's an old school model of b-to-b media, one that was last relevant in the nineties and which relies on business-model assumptions that go back decades. But as of 2001, that model disappeared, Don Pazour, CEO of the b-to-b media company Access Intelligence, told attendees at Circ Day L.A. last week.
A new model, different from the old but filled with opportunities, awaits those who can engage the "right people in the right communities."
In the old model, b-to-b print advertising was cyclical but predictable, and always returned after a recession. The key mission was bringing together buyers and sellers. The center of gravity in b-to-b media was the American Business Media membership. A BPA audit was the currency of credibility and competitiveness. 
With the dot-com bust, the world changed forever, Pazour said. The Internet came into its own as a disruptive source of content. And Google's revolutionary lead-generation capabilities changed the priorities and expectations of advertisers. "2001 changed everything," Pazour said.
There were about 120 attendees at Circ Day L.A., which is produced by the Association for Audience Marketing Professionals. It is one of the last annual traditional-media events on the West Coast. Pazour was the keynote. [Full disclosure: Access Intelligence is the owner of Foliomag.com.]
After the great, realigning bust of 2001, Pazour said, all these things happened:
• Ad networks emerged and started driving down CPMs
• Social media arose in the second half of the decade and became a must-do for all brands, not just media brands
• Smart phones and iPads created a massive new mobile-based media and advertising industry
• Publishers and their customers realized they had valuable data that needed intelligent analysis to provide insight
And right around the corner is wearable Internet devices and true voice recognition, Pazour said.
Importantly, Pazour told the audience of audience-marketing professionals, circulation is "passé," replaced by a still morphing definition of audience development that includes SEO and SEM, behaviorial data, social-media activity and much more. But even as the audience function is transforming, new competitors like Google Facebook, Amazon and LinkedIn are driving the science.
Complicating the environment, Pazour said, are the harsh realities that print is dead for news; marketers are migrating from paid advertising to earned and owned media; advertising has become a commodity; and readers manage their own content flow and think they want to eliminate advertising. "Print is dying for almost all other applications," Pazour said. "Now, it's all about communities, communities, communities and engagement, engagement, engagement."
Now, he said, marketers want new customer generation and stronger brand loyalty. They want to tap into "our ability to aggregate and engage more of the right people through our intellectual and relationship capital."
They want us to demonstrate an understanding that the audience is king and that the content is the queen. 
Meet the Author
---