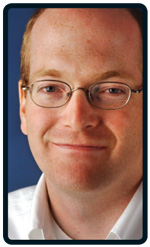 McLaughlin helped recast the venerable Christian Science Monitor as a multi-media news brand. He's at it again, launching FutureFocus, a quarterly online and print series and reshaping the Monitor Breakfast.
When the daily Christian Science Monitor became a weekly magazine focusing on a multi-platform approach, it spurred an understandably large change in thinking for the organization.  Abraham McLaughlin, manager of content products, knows this is not a unique challenge: "Everyone in the media industry is trying to understand how these things work. But, at the end of the daily run, we had 40,000 subscribers. We now have 70,000 subscribers to the weekly, and 9 million unique Web visitors; we're starting to figure it out."
McLaughlin is currently revamping The Monitor Breakfast, which puts top journalists at a breakfast table in the St. Regis hotel with key political figures in a free-ranging interview format. 
The goal is to raise the Breakfast's profile and make it self-sustainable. "I want it to be the online version of Meet The Press," he explains.  "We invite prominent reporters, and then we give them video clips of themselves interacting with the guest, to embed in online stories. It's on our site, The Huffington Post and YouTube, but we needed a larger distribution network to attract sponsors, so we're putting it as many places as we can."
The strategy is starting to pay off. "We've had as many as 75,000 views on the Breakfast, but we're not getting that consistently," says McLaughlin. "So we embed clips from the breakfast in related stories, to drive traffic. We're also speeding up the process of creating quick custom clips for the reporters, sending them to their desks within an hour of the end of the breakfast. Any of the clips have a short pre-roll, and there's a sponsorship bug on the video itself."
McLaughlin is also launching an online and print quarterly insight piece.
"Future Focus is our attempt at blending the in-depth reporting we're known for, with content our advertisers are willing to support," he says. "The first one was print without any sponsors, and then CSX sponsored the next two editions."
VITAL STATS: Internal tracking figures show the www.csmonitor.com site generating 28 million page views in March 2011, with 9 million unique users, putting them in the Top 20 News Media sites for their best month to date.