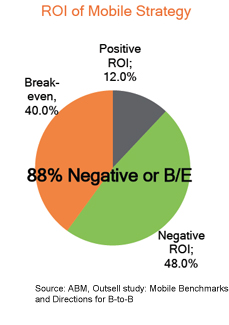 ABM, which is wrapping up its Executive Forum being held in Chicago this week, voted nine new companies into membership at its board of directors meeting Monday.
Media members include Editorial Projects in Education, InsuranceNewsNet.com and new international member Beuth Verlag GmbH.
The association also added six associate members, including Adobe Systems Inc., bXb Online, LiveIntent, MagToGo, Tout and WeiserMazars LLP.
"These new members—ranging from traditional and international media companies to progressive businesses focused on app development, social media, virtual event technologies and digital monetization solutions—support ABM's initiative to represent the wide range of platforms and models leveraged by business information and media companies," said ABM president and CEO Clark Pettit in a statement.
Meanwhile, news out of the Executive Forum includes a bit of research ABM did in partnership with Outsell that examined mobile content and business models. B-to-b executives responding to the joint survey, it seems, are not in it for the money—yet. Instead, brand enhancement, content delivery, serving advertisers' needs and creating a superior digital experience were the top mobile objectives, with 64 percent, 60 percent, 60 percent and 52 percent of responses, respectively.
At the bottom of the objectives list were "new revenue from mobile users (29 percent) and "enable mobile e-commerce" (24 percent).
Additionally, only 20 percent of respondents indicated they have a formal mobile strategy in place. The majority of respondents (56 percent) say their mobile strategy is somewhere between formal and ad hoc. A quarter, or 24 percent, say mobile is on an ad hoc, project or case-by-case basis.
Given that objectives aren't quite standardized and that 40 percent of respondents expect to break even with their mobile investments and 48 percent expect a negative ROI, mobile initiatives are clearly still in the experimental phase.
For more results from the study and the slide deck on the ABM/Outsell presentation from the Executive Forum, click here [pdf].