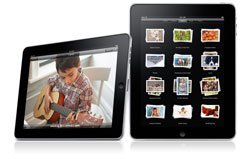 As the iPad continues to rapidly attract new customers every day with its top-notch capabilities, publishers are equally as eager to join the party and create an additional revenue stream for their brands. Apple announced last month that it had sold 2 million iPads in less than 60 days and Wired editor David Rowan tweeted earlier this month that the Condé Nast title's iPad app had been downloaded 62,431 times.
ABC addressed the new phenomenon during its March 2010 meeting where its board agreed that a replica digital edition must include a print edition's full editorial content and advertising, but no longer needs to be presented in a layout identical to the print version.
"They want to ensure that ABC's qualification and reporting guidelines are forward-looking and provide ample flexibility to take advantage of new devices like the iPad," Teresa Perry, SVP, publisher member audit and report processing services, told AD back in March. "The new guidelines allow ABC magazine members to design digital editions that are better suited for the specific distribution device, like the iPad, and provide additional features in the digital edition that enhance both the editorial and advertising content while still counting that circulation in rate base."
In addition to encouraging members to seek an evaluation of their new e-reader editions or mobile apps from ABC itself—a demo or beta version will suffice—the bureau has also provided a list of dos and don'ts when it comes to putting content on the iPad.
For example, while ABC promotes the use of additional advertising and "additive content" such as hyperlinks, video and audio without it impacting the ability of the publisher to qualify its circulation as "replica," it prohibits editorial photo substitutions in iPad digital editions. In other words, if the same editorial photos in the print edition cannot be used in the iPad edition, the circulation will not be qualified as "replica." ABC also prohibits publishers from separating the ad content from the editorial content or serving back copies and counting them as "paid" or "verified" circ on ABC statements.
For the complete list of ABC's iPad dos and don'ts, click here.