ABC's 8-Minute Love Letter to Us Weekly

Nightline's softball profile begs the question: Why?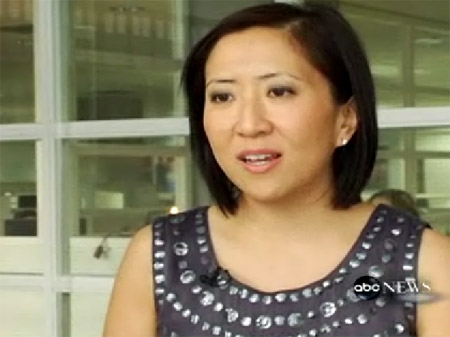 I don't typically watch Nightline. Ever. But I did manage to catch—by accident—an eight-minute profile the ABC news show did the other night, something entitled "Stars, Skin, Scandal: Secrets of Us Weekly," in what amounted to an R. Kelly love song to the magazine and its role in the rise of celebrity. Specifically, its contribution to the fame-gawking canon with the popular "Celebrities, They're Just Like Us!" feature:
A generation ago, we never saw this side of our icons. There were no pictures of Bogart buying toilet paper or Bacall working off the baby weight. And no one knew that Tracy and Hepburn were having an affair.
So why does it work now, Janice Min?
"There was a lot of depressing news out there, obviously, beginning with 9/11 and then a prolonged involvement in Iraq and a presidency that a lot of people felt very upset about," Min said. "I do feel like to some large degree, people look for escape and US Weekly was waiting for them. And it was just this great distraction from other issues out there."
I bet you're wondering how they choose the cover.
"A lot of people are wondering, what in the world did [Mariah Carey] do to lose all that weight?" said Min. "For this mass audience going to the grocery to buy Us Weekly, that's very relatable, I don't think there's a woman alive who can't relate to the idea of yo-yo dieting." The singer didn't have time to sit for a shoot, so Min would only put her on the cover if Mariah's people could send them the right photo.
What is the right photo, you're wondering. Don't worry, Nightline gets to the bottom of it!
"You know, the dream photographs to me are the last pictures of Brad and Jen on the beach," news photo editor Peter Grossman said. "The other side of that was the first picture of Brad and Angelina together in Africa. These are both pictures that we had exclusively on our cover … you didn't need words, you just looked at them and it was like, 'Oh my God.'"
Oh. My. God. There's more:
"Everyone has something about their job that they don't like, and I think being a celebrity is these people's job and this is sort of one of the things that comes along with it that is probably not their favorite part of the job."
You mentioned Brad. What about Matt Damon?
"One of my favorite celebrities is Matt Damon. He's smart enough to not live in certain parts of Los Angeles and to not go in places where celebrities are always having their picture taken and he didn't marry another celebrity and he's the kind of person that has it all."
By the way, who's getting the cover?
By midweek Min and her staff had settled on a Mariah Carey cover. "It's cute — showing enough body, looks great, but it isn't too skanky."
Since you're not getting those 8 minutes of your life back, we all might as well ponder why ABC's nightly news program would devote an entire segment to one magazine. ABC wouldn't want its shows, like Grey's Anatomy, to get favorable coverage in Us, would it? And ABC's parent company, Disney, wouldn't desperately want its most marketable star, Miley "Hannah Montana" Cyrus, to grace a future Us cover, would it?
Nah. Never.
Meet the Author
---