ABC to Sponsor Entire Issue of TV Guide

Network sole advertiser in magazine's August 25 issue.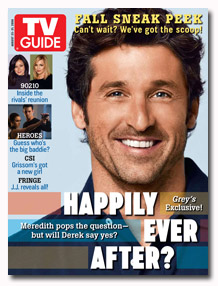 For the first time in its 55-year history, a single advertiser will sponsor an entire issue of TV Guide.
The magazine, hitting newsstands August 21, will carry 21 ad pages promoting ABC Television's fall lineup. (Last year's "Fall Sneak Peek" contained 26 ad pages, according to the Publishers Information Bureau.)
The issue will also include a DVD promoting ABC's slate of programming.
Patrick Dempsey, the star of ABC's primetime drama Grey's Anatomy, appears on the issue's cover.
RELATED: Nike Product Placement on a Cover That Actually Works
The print ads—for ABC Primetime, ABC News, ABC Daytime, Late Night, ABC.com and Buena Vista Home Entertainment—are part network's "ABC Start Here" brand campaign.
Last fall, TV Guide partnered with ABC to create paper hospital gowns that were polybagged and mailed to subscribers in New York and Los Angeles to coincide with the season premiere of Grey's Anatomy.
While rare, other magazines have experimented with single-sponsored issues, most notably the New Yorker, which turned its entire August 22, 2005 issue over to Target. The issue featured ads that mimicked New Yorker-style illustrations—all of them incorporating Target's red-and-white bulls-eye.
TV Guide's Ad Performance
The latest move comes at a critical time for TV Guide.
Single copy sales for TV Guide fell some 29 percent during the first half, according to the Audit Bureau of Circulations Fas-Fax. Overall, though, the magazine's circulation was essentially flat, with a 2.4 percent increase in subscriptions.
Ad pages, meanwhile, were down 1.4 percent during the period.
In April, stockholders at TV Guide approved a $2.8 billion merger with Macrovision. The following day, TV Guide laid off an undisclosed number of staffers in association with the merger.
Since the deal was announced in December, Macrovision has sought a buyer for the publishing side Gemstar-TV Guide, including the magazine. It is unclear, however, whether or not it intends to sell its online publishing assets, including TVGuide.com.
Meet the Author
---