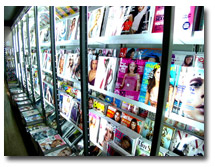 According to estimated figures provided by publishers to ABC's Rapid Report, titles in the business/finance, health and women's interest categories have seen steep declines in newsstand sales as well as in total circulation compared to the same period last year.
Although official first-half magazine figures are not set to be released until August 31—its filing deadline to accommodate those who were affected by the shutdown of Anderson News' wholesale operations—preliminary figures show that the outlook for most publishers is not very bright.
Business/Finance
One of the biggest decliners in the business/finance was Money with a 34.3 percent decrease to 66,833 copies sold during the first six months of 2009 followed by Fast Company, which was down 18 percent with 24,659 copies sold. Both titles also saw a decline in total paid circulation of 2 percent and 1.3 percent, respectively.
Both The Economist and Inc. saw their total paid circ rise by 8 percent and 1.8 percent, respectively, although The Economist's single copy sales declined by 5 percent. Inc. saw its single copy sales rise by 6.9 percent.

Health
On a brighter note, both Health and Women's Health saw an increase in single copy sales of 10.7 percent (85,249 copies) and 8.5 percent (333,183 copies) respectively.
Health, however, saw its total paid circ decline slightly by 0.34 percent while Women's Health saw a 30 percent increase in total paid circ. Rodale announced today that will raise Women's Health's rate base to 1.5 million from its current 1.35 million-rate base, effective with the January/February 2010 issue.
As for the other titles in the category, the news wasn't so good. AMI's Natural Health, which recently announced that its frequency would be reduced from 10 times a year to eight, saw one of the largest declines in single copy sales to 36,540 (or -22 percent), followed by Prevention (-19.3 percent), Body + Soul (-13.2 percent) and Shape (-11.6 percent).

Women
Shopping and fashion titles also saw an overall decrease in single copy sales. Lucky saw one of the largest declines at 18 percent, followed by Glamour (-13.9 percent), Harper's Bazaar (-12.5 percent), Elle (12.2 percent), Vanity Fair (-11 percent) and Life & Style (-7.8 percent).
Women's service titles fared even worse. Redbook's single copy sales were down 28.7 percent followed Martha Stewart Living (22.4 percent), Woman's Day (-22.3 percent) and Good Housekeeping (-18.3 percent). O, the Oprah Magazine was also down, but only slightly, by 4.4 percent.