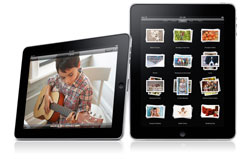 The Audit Bureau of Circulations' board of directors has ruled to modify its definition of a digital magazine in the U.S. and Canada to accommodate new devices such as the Apple iPad.
At a meeting held March 10-12 in Washington, DC, the board agreed on new standards that state a replica digital edition must include a print edition's full editorial content and advertising, but no longer needs to be presented in a layout identical to the print version. Replica digital editions will continue to be included in a magazine's circulation guarantee, or rate base.
"The board's decision to revise the definition really stems from the growing interest magazines are showing in e-reader and mobile devices," Teresa Perry, SVP, publisher member audit and report processing services, wrote in an email to AD. "They want to ensure that ABC's qualification and reporting guidelines are forward-looking and provide ample flexibility to take advantage of new devices like the iPad. The new guidelines allow ABC magazine members to design digital editions that are better suited for the specific distribution device, like the iPad, and provide additional features in the digital edition that enhance both the editorial and advertising content while still counting that circulation in rate base."
The board is also encouraging members that are planning to launch e-reader editions or mobile apps to seek evaluation from ABC. "The evaluation is an informal review of a publisher's digital edition—whether that be a new version built for the iPad, an app developed for the iPhone or Blackberry, or one meant to be viewed on a computer," according to Perry. "We don't need to review a live production version of the edition; a demo or beta version is what we commonly look at. Based on ABC's guidelines, our Publisher Relations department will render its opinion regarding how the edition would likely qualify (i.e., replica or nonreplica) and, therefore, how the publisher should report the copies when its claims are filed with ABC."
ABC confirmed that Condé Nast's Wired is the first publication to seek review of its iPad version, which will qualify as a digital replica edition under the bureau's new guidelines. GQ has already received ABC's approval for its replica app, which has been available on the iPhone and iPod Touch since December.