AARP Rolls Out Social Monetization

New 'Hot Deals' Facebook initiative offers sponsors integrated ad buy.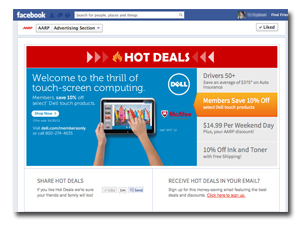 AARP, the association for those aged 50-plus and publisher of the largest circulation magazine in the country, is taking advantage of Facebook to not only reach its core membership, but to offer advertisers integrated ad buys as well.
The new program known as "Hot Deals" is designed for advertisers to reach the 50-plus audience through a dedicated Facebook tab that offers money-saving opportunities—the program promotes or tests timely offers that generate sales for new and repeat advertisers.
AARP estimates that 75 percent of all of its members sign up looking for discounts, though these Facebook offers are not limited to members only. The deals are housed on the "Advertising Section" of AARP's Facebook page—sponsors can provide up to 140 characters describing the offer and product benefit, a visual and a click-through URL to offer redemption on a brand's website. Consumers also have the option of sharing the deal on Facebook or via email with their friends.
"This is an extension of a very successful program that has been running on AARP.org," says Peter Zeuschner, who leads digital sales for the association. "In December we clocked in our 1 millionth follower so it became a logical extension of taking a successful program that lived in our site and moving it over to Facebook with this dedicated 'Hot Deals' tab where our Facebook followers are looking for discounts."
Zeuschner says that the association's 37 million members own about 75 percent of the nation's wealth, making them an attractive demographic for sponsors looking to promote deals. He says about 33 percent of Facebook's global audience falls into the 50-plus category, making the space a natural place to extend the offers. The deals rolled out on March 1 and AARP has seen between two and four percent of its fans clicking through since the program was introduced.
"The 'Hot Deals' program is a package—we've bundled all of our highest performing assets with this, like banner ads, interstitials, dedicated landing pages and now this Facebook tab together under one price point," he says. "It's priced per-month for a 30-day time period and this is considered our premier package. We have a very engaged audience that's supported our business model—we've experienced a revenue growth of 35 to 50 percent for the last five years because our members are so engaged."
In addition to having a dedicated Facebook tab the social initiative will be promoted on AARP.org, through an e-newsletter and in the association's magazine.
"Above everything else AARP is a membership and social impact organization," he says. "The key to this is member value. Our members are looking for quality discounts and great deals, so this is an opportunity for us to provide them with one place to go to get these great advertising bargains by taking advantage of the growth of Facebook."
Stay updated on the latest FOLIO: news, follow us on Facebook & Twitter!
Meet the Author
---