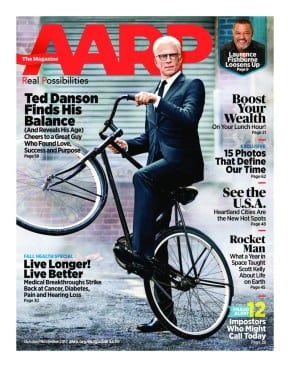 Add another accolade to the trophy case in what has turned out to be a banner year for Mryna Blyth, Bob Love, and co.
According to the latest data from market research firm GfK MRI, AARP The Magazine has overtaken People—a weekly—as America's most-read print magazine based on the average number of readers per issue.
An average issue of AARP was read by an estimated 38.3 million adults over the reporting period—which ran from October 2016 to November 2017—narrowly edging out People, whose weekly issues were read by an average of 37.9 million adults, according to the data, down from 41.4 million a year ago.
Given its bimonthly distribution to 22 million AARP-member households, the title has a bit of a leg up on the competition, but it's also steadily grown its print audience over the past several years, adding more than 5 million readers even as Americans of all ages—including those 50-and-up—increasingly access media online.
"We have a membership that still prizes print and still prizes the publications we send to them," Love, who joined AARP as editor-in-chief in 2013, told Folio: earlier this month. "We know because we talk to them on a regular basis about what they like and what they don't like about what we are doing."
The data also suggests further evidence that the average print magazine reader continues to age. At a median age of 64 years, 2 months, AARP The Magazine's audience is not the oldest readership measured, according to the MRI data, but it nearly is; American Legion magazine's 3.3 million readers just beat out AARP's, at a median age of 65 years, 6 months.
None of the top five magazines—which combined encompass 56 percent of the total number of "magazine readers" across the 150+ titles measured—has an audience with a median age younger than 47, and the title with the youngest readership, Teen Vogue (28 years, 11 months), shuttered its print edition this year.
Below are the ten most widely read print magazines in 2017, according to MRI's issue-by-issue data:
1.  AARP The Magazine: 38.3 million (+ 2.7 percent year-over-year)
2.  People: 37.9 million (- 8.5 percent)
3.  Better Homes and Gardens: 35.6 million (- 2.5 percent)
4.  National Geographic: 30.6 million (+ 3 percent)
5.  The Costco Connection: 25.8 million (+ 6.2 percent)
6.  Good Housekeeping: 19.2 million (- <0.1 percent)
7.  Reader's Digest: 17.6 million (- 6.9 percent)
8.  Time: 17.2 million (- 1.1 percent)
9.  Sports Illustrated: 16.6 million (- 6.4 percent)
10.  Southern Living: 15.7 million (+ 0.1 percent)
---
Editor's note: MRI data measures the total number of adults who read an average issue of a magazine over the reporting period, not the total audience of said magazine. An earlier version of this story failed to sufficiently make that distinction, suggesting the numbers represented the overall audience reach of the magazines.