AARP News Publication Launches Online

New site to feature magazine content, social networking.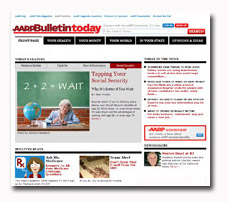 AARP today has unveiled bulletin.aarp.org, the online presence of AARP Bulletin, the association's news publication.
The new site—called AARP Bulletin Today—features daily news, multimedia applications, and original content including columns such as Scam Alert, Save a Buck and Outrage of the Week. The site also includes feeds for breaking news targeted to the association's members, who are aged 50 and older.
The creation of AARP Bulletin Today is part of a larger relaunch of AARP.org. In addition to a redesign, the site now includes content from AARP the Magazine and an online social network.
With nearly 40 million members, AARP this year celebrates its 50th anniversary. The association was founded in 1958 by Dr. Ethel Percy Andrus. AARP the Magazine was launched in 2002.
Meet the Author
---