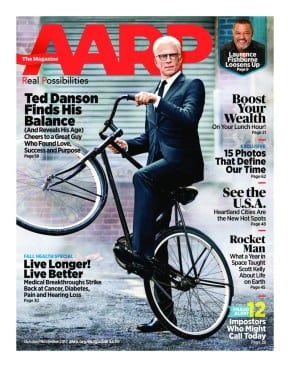 As the proverbial bells toll on printed media across the nation and the looming presence of tech giants over an increasingly digitized media landscape dominates (rightfully) much of the conversation about the future of journalism, the world's most widely circulated print magazine just upped its rate base.
Published six times per year, AARP The Magazine (alongside its sister publication, the 10x frequency Bulletin), hit an all-time high in print readership this year at 38.3 million – a more than 15-percent increase from a decade ago – according to data from GfK MRI.
A pair of industry veterans: editorial director Myrna Blyth, the former editor-in-chief of Ladies' Home Journal and founding editor of More; and Bob Love, who has served as managing editor at Rolling Stone and national affairs editor at Reader's Digest; have breathed new life into the soon-to-be 60-year-old magazine, scoring its first-ever appearance on the Ad Age's annual "Magazines of the Year" list in 2016, and earning Love Editor of the Year honors at the 2017 edition of Folio:'s Eddie & Ozzie Awards.
"Morale here is really high because we are not on that burning rope bridge that many other publications have been on," Love tells Folio:. "We have the confidence of our board members, so we're in a good place."
But Love has been in the business long enough to know that it affords no rest for the weary, and even a 60-year-old magazine for 50-plus-year-olds must innovate in order to survive, especially online.
To that end, AARP has made an aggressive push into digital content – particularly video – and a remarkably engaged online audience (13.2 million monthly visitors, who spend an average of 14 minutes on the site) has caught the eye of major new advertisers from Apple and Sony to BMW and Ritz-Carlton.
On the print side, Love's team unveiled a series of new content initiatives this year, like sponsored "Decision Tree" units in the Bulletin – interactive guides that Love says were "off the charts in popularity" with his readers.
"It allows us to take advantage of the Bulletin's larger print format to use imagery that's bolder and more powerful and breaks down a complex subject like Medicare plans or auto insurance, into ways that are fun to look at and teach you something, too," Love adds. "Print is old school. You've got to figure out ways to get the reader's attention in a positive way."
Folio: sat down with Love to hear more about the future of AARP The Magazine, the publishing industry at large, and challenging the stereotypes of aging as Americans live longer, more active lives than ever before.
---
Folio: For starters, what's behind all of the growth?
Bob Love: We have a membership that still prizes print and still prizes the publications we send to them. We know because we talk to them on a regular basis about what they like and what they don't like about what we are doing. So I think the success is related to the fact that we listen to our readers and deliver a product that is hopefully entertaining, informative, helpful, surprising, and delightful.
Folio: When you say you listen to your readers, what are some of the ways you come up with new content ideas to appeal to such a broad readership?
Love: It is the broadest readership. We have 38 million members and the magazines go to 22 million households. It's dual-gender. It's diverse in terms of racial demographics. We have a research department here who does surveys on both publications. We know what they're reading; we know what they're liking.
You also have to have a really deep knowledge of what you've already done. Our readers have been around the block, like me. We assume that they are fairly well read in the areas in which they're interested, like health or money service. You don't have to tell 50- or 60- or 70-year-olds how to tie a tie or what jacket to buy. That's not our thing.
Folio: When you think about your priorities as an editor, is it more about raising the level of engagement with your existing readers, are you thinking about expanding your readership to members who aren't reading the magazine? What's your focus?
Love: We version the magazine, so we talk to the 50-year-olds slightly differently than we talk to the 70-plus year-olds. We try to customize the magazine a little bit for each of those demographics. Not too many magazines do that.
We produce a magazine that we hope, when other people see it, they'll respond to it in a way where they say, "That's pretty interesting. This is not a magazine for old people; this is a magazine for me."
Now, I will say, it's harder and harder to engage readers because of the internet. Part of the art of magazine-making has always been to repackage with the goal of surprising and delighting your readership, even if you're writing about the same family of ideas, like health, personal finance, Medicare, and Social Security. How do we do this so that it's new and people want to look at it again? That's how you make a vital and vibrant editorial product.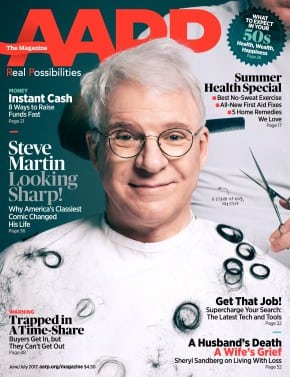 Folio: When you look at what your audience wants from you, has anything surprised you?
Love: We pretty much know that they are interested in up-to-the-minute health service, financial service, and they want to know more about AARP and what we deliver. That never wavers.
But last year, we did a survey of possible cover subjects and threw out a bunch of names. Steve Martin came back, surprisingly, as number-one. Steve Martin hasn't had a big hit movie in a really long time. But he has created a persona that has warmth and that people remember, so we put him on the cover this summer. He didn't have a big movie project to promote, but the readers told us they'd like to read about him, we delivered it, and they responded. So it was a loop of positive feedback.
We know about certain other celebrities who have very high emotional resonance with our readers, like Michael J. Fox, Sally Field. These are people who are still out there and vital but they do evoke a kind of nostalgia as well.
Folio: How do you go about choosing your cover stars?
Love: When you put a movie star on the cover, they're giving you a day or two of their time. We're kind of dependent, like any other magazine, on who is available to us and who will do it, because we do ask for a photo shoot and in-person interviews. If we don't get that, we're not likely to go for the cover.
Esquire had Robert Redford this year, who is 81. Harrison Ford was on the cover of GQ. He's 75 If they can get a GQ cover, they might not do us.
Folio: Do you ever need to sell people on it—because you aren't GQ or Esquire?
Love: There's a lot of ageism in Hollywood, especially in the movie business. Sometimes they have to be convinced or be ready to do it. There are certain people who have crossed the threshold and the fact that they're older doesn't bother them—Michael Douglas, Robert De Niro. They've each been on our cover multiple times. There are other people who are in the demographic who just wouldn't do it just yet, or whose publicists would react to the notion of appearing on AARP.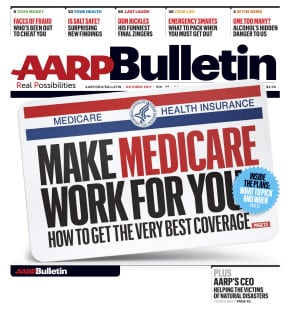 Folio: We're seeing a lot of other publishers moving toward approaching their audiences with more of a membership-type model. Do you see that as the way forward?
Love: I would think so, yes. If you can interest people about joining your community, they become better readers. They become closer readers. They become more aligned with what you're trying to do with the publication and become kind of a community. It's a good idea.
Others are starting from scratch, whereas we will have been at this for 60 years next year as a service organization that is based on membership. We've always provided service to people as they get older to help them live lives of dignity and purpose—that's who we are. So people join us for that and then they get these groovy publications and I think they respond to that, but they're members first and then they become readers.
Folio: From an editorial standpoint, how does that clearly defined mission impact your strategy? Are there certain stories that aren't right for AARP?
Love: Not in any significant way. The way that I think of it, when I was at Rolling Stone, we saw the world through the prism of youth. The joke was that the Rolling Stone reporter would sit on the curb smoking cigarettes with the kids who were busted and get the real story instead of going to the authorities.
Now, we do a general interest magazine through the lens of Americans age 50 and older. It doesn't really infringe upon the creative process.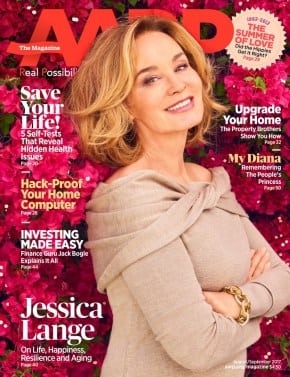 Folio: Obviously your audience still has a tremendous appetite for print. Are you finding they're increasingly interested in accessing content online as well?
Love: Yeah, we have a whole complement of folks who are digital specialists. We send out a variety of newsletters, maintain the website, and we have a social team as well. What we don't do is produce a version of publications online. That content goes into the hands of the people who design the digital products and then they do it their way.
We've found that there's migration toward the digital side, for sure. We have 13.2 million uniques a month, and the average visit is 14 minutes long. Forty percent of them are on mobile. It's a transition that has defined every journalist's life: the movement from print to digital. Many of our readers are not digital natives, but they're making their way to the digital world and so we're happy to try to keep figuring out how to give them what they want.
Folio: You're also doing a lot of video.
Love: We've hit a few really big home runs in video, and have a full-scale studio set up in D.C. with a team of eight or ten people who work only on videos. We've got really bright people making these videos and it clearly is a big part of the future on the web.
Since Myrna Blyth came over, the whole pace of everything digital has quickened. Myrna is an icon in magazine publishing and she's the one that's driving all of this foment on the digital side. She is the editorial director of all of the channels of AARP, and I can't stress enough what an inspiration she is to me, personally. She's just an idea machine; it's unbelievable how bright she is on any given day. I feel pretty lucky to be here.
We did one video series with Don Rickles, "Dinner with Don," where he was basically having dinner with everybody from Snoop Dogg to Paul Rudd. It did really well for us, people really loved it. We supported it on the other channels, I wrote my editor's letter about it. That's our model for success in the future, to do series.
Folio: There's a perception out there that marketers don't value Baby Boomers and older Americans, and they kind of get lost in the chase for millennials. Is it part of your mission at AARP to challenge that?
Love: It's not only my personal mission, but the mission of AARP to challenge the stereotypes of aging and it's probably entrenched more so in advertising and marketing than anywhere else. It's a battle to get people to see our demographic as one that is spending the amount of money that it does, which is extremely high.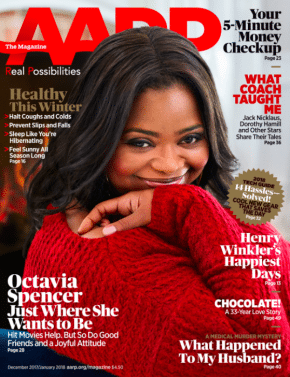 Folio: How do you overcome that?
Love: My office here in New York is in the middle of the media sales space. They have a full marketing department that gets the news out, but print is difficult under the best of circumstances. When you have print combined with an older demographic, it's a very challenging sell. But we do it because we are constantly at it. We don't go away.
Folio: What's the future for AARP The Magazine? Can you envision a world in which there is no print component?
Love: I think print is part of AARP for the foreseeable future. The future of print here is solid, and I think it's because we rest on the fact that membership is really what this association is about. We have large scale, but we have different economics than a free-standing magazine.
Folio: When you spoke at one of our events back in the spring, you advised the editors in attendance to "read like your enemies will." In a time of such intensified scrutiny of the media and journalistic practices in general, do you think that message takes on added resonance?
Love: I think it's absolutely true in these polarized times. For everyone who likes you and loves you, there are people who don't and who think you're doing a bad job and will pick you apart. We are blessed with this gigantic audience of all different political affiliations, so we really are stridently non-partisan. We take that to heart in the publications; we don't favor one ideology or belief system above another.
We are advocates for social security, and Medicare, and a fair taxation system for older people, so in some cases we may get painted into a corner as liberal, but we really are not. We are as non-partisan as we can be. It's the only way for us to be.