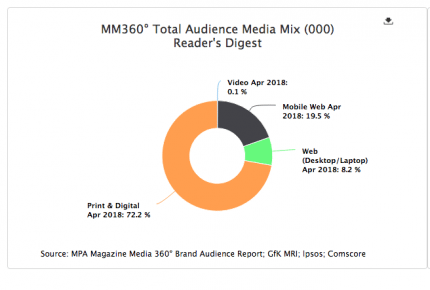 When venting about the mounting challenges involved in running an ad-supported media business in 2018—both on- and off-record—a common complaint among publishers is an avoidance of legacy brands among media buyers that seems uncoupled from reality.
"We don't have an audience problem in our business," Us Weekly VP and chief revenue officer Vicci Rose told Folio: earlier this year. "We have an advertiser perception problem."
In a bid to address that perception problem, the Alliance for Audited Media announced today a partnership with MPA (the Association of Magazine Media), under which the latter's Magazine Media 360° brand audience reports will be integrated into AAM's Brand View—a feature within the platform that allows magazines to place brand messaging alongside its audit reports. The partnership is aimed at selling media buyers on magazine brands' cross-platform audiences—not just their print circulations.
Effective immediately, MPA says the most recent reports (April, 2018) are ready for activation within the profiles of any AAM clients who also participate in the monthly 360° reports (about 120 magazines in total), which use third-party data from sources like comScore and GfK MRI to estimate MPA members' total audiences across print and digital editions, mobile and desktop web, and video. Magazines who opt-in will see their pages update automatically upon the release of each subsequent monthly 360º report.
AAM first launched the Brand View feature in 2016 as a way to allow its clients to showcase their cross-channel metrics, and the firm says that the publications who have taken advantage of it have seen, on average, 40-percent more "activity from media buyer users" compared to those who haven't.
"The MPA 360° report is a valuable tool because it helps us review a brand's audience across platforms and identify which formats are trending with readers," said Scott Kruse, managing partner and director of print at GroupM. "By publishing these metrics alongside AAM-audited data in Brand View, we have a complete picture of a brand's audience in one accessible place."
The MPA adds that its members who are AAM audited but do not participate in Brand View will also receive a tab devoted to the Magazine Media 360º reports later this month.
"It is important for us to be able to shine a spotlight on our rapidly growing digital audience while also providing advertisers with the assurance they need through AAM-verified data," added Trusted Media Brands president and CEO, Bonnie Kintzer, in a statement. "Presenting both datasets in one location helps us tell a more comprehensive, complete brand story with metrics buyers have come to trust."
---