Publishers might be finally getting a grasp on the changing media landscape, new data from the Alliance for Audited Media (formerly the Audit Bureau of Circulations) shows.
A survey of 210 of its members reveals that by the end of 2014, 41 percent of publishers expect mobile to represent at least 10 percent of their overall circulation revenues. Similarly, within the next two years, 46 percent of publishers expect mobile to represent at least 10 percent of their overall advertising revenue.
More than half—54 percent—say that mobile currently represents up to 9 percent of advertising revenue. About 56 percent say mobile represents 9 percent of their circulation revenue.
By the end of 2014, 20 percent of AAM media companies expect their portfolio of digital products—websites, mobile, social media—to account for at least 25 percent of their advertising revenue, up from about 4 percent now.
About 55 percent of consumer magazine respondents are offering bundled subscriptions and 60 percent are opting to separate subscriptions. Just 28 percent are offering incremental subscriptions. In all, 62 percent of AAM publishers—which includes newspapers, consumer magazines and business publications—offer readers access to content on all print and digital platforms for one price.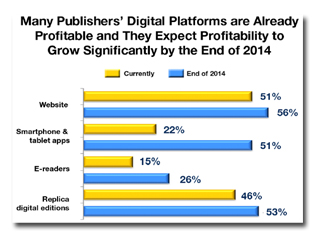 Publishers expect smartphone and tablets to double profitability by the end of 2014, though the type of platform does have some impact on profitability, as the chart on the right shows.
Devices, Techniques and Platforms

While the light at the end of the tunnel seems to be shining a bit brighter, publishing respondents are still split on how to actually get there. About 41 percent of publishers say they plan to continue using native apps while 31 percent said they plan to try HTML5. About 44 percent are still undecided.
"Apps will continue to be important, but we're also looking at Web solutions for the long term," one consumer magazine publisher said. Another respondent summed up the multi-channel publisher's mission: "To optimize the content based on device."
About 70 percent of respondents are producing native apps, while 67 percent are producing Web apps that are optimized for specific screens. Eighty percent of magazines are leveraging native development technologies for at least one app versus 50 percent using browser-based Web apps.
More than half of respondents indicate they are simultaneously producing content using two or more different content management and development platforms. About 85 percent of respondents have iPhone apps, 87 percent have iPad apps, 67 percent have Kindle apps, 57 percent have Nook apps and 75 percent have Android apps.
Publishers view apps and devices as more than a one-off opportunity—on average, companies are producing 3.4 iPad and iPhone apps, 3 Kindle apps and 2.4 Nook apps. Overall, 56 percent of AAM publishers charge for their iPad apps, 42 percent for their iPhone apps, 38 percent for their Kindle apps and 31 percent for their Nook apps. About 40 percent of respondents say they are not currently charging for their content on any device.
While publishers are generating revenue from their many apps, creating unique experiences on these devices is challenging. One publisher said, "Creating an optimized workflow is critical for time-sensitive publications like ours," referring to the challenge publishers face when trying to scale their production workflow to support unique tablet content. It seems, the data shows, that to navigate this challenge publishers have turned to exact replicas: