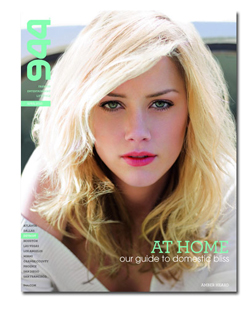 944 Magazine, a freely distributed "luxe" regional distributed in markets such as Atlanta, Dallas, Detroit, Las Vegas, Miami, Orange County, Calif., Phoenix, San Diego and San Francisco with a combined circulation of 3.4 million, is closing with its June issue.
However, Sandow Media, which bought publisher 944 Media in February for a reported $1.3 million, suggests that the Las Vegas edition of 944 will become part of a recently formed partnership with Wendoh Media to produce a new guide for Las Vegas.
944 Media launched in Phoenix in 2001 by then 22-year-old CEO Marc Lotenberg. In 2009, 944 was named the second fastest-growing publisher on the Inc. 5000 list, with 377.8 percent revenue growth to $13.4 million.
However, the wheels came off in 2010 for the self-proclaimed "largest regional lifestyle media company" with 944 Media filing for Chapter 11 in the face of several lawsuits against the publisher, including one filed in March 2009 by California-based Explosive Productions LLC over a Super Bowl partnership to create a "Super Village" that alleged 944 kept sponsorship money for itself while giving away thousands of tickets (including more than $1 million in VIP tickets to "potential magazine models") and selling fewer than 1,000 tickets.
The lawsuit also claimed a "racial bias" in which 944 refused to market the event to Hispanic audiences on Spanish language radio. Lawsuit documents included e-mails from 944's business development manager stating, "We can't promote on Spanish radio unless you want to kill this event entirely on Sat. night. We will have a bunch of gang bangers and get shut down."