8020 Suspends Everywhere, But Hopes to Relaunch by Year-End

Publisher of reader-gen magazines plans to launch three new titles by Q1 2009.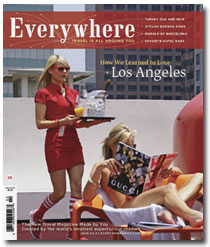 8020, San Francisco-based publisher of a pair of reader-generated magazines, has decided to suspend publication of one of them—Everywhere—and laid off three staffers, including the magazine's editor-in-chief.
The travel magazine and Web site, comprised entirely of reader-generated content that is ranked and chosen for print by its online audience, "aren't where [they] need to be business-wise," according to the Everywhere blog. The company plans to focus on reengineering the Web site's back-end until the print version relaunches "before the end of the year for sure," 8020 president and CEO Mitchell Fox told FOLIO:.
"You get content contributed based on the kind of Web site you have," Fox says. "I am going to stay true to my model and build a dynamic Web site to bring in the kind of content that will make for an exciting, unique and probably narrower-focused magazine."
8020 will continue to publish photography-focused JPG. According to Fox, 8020 hopes to launch as many as three new titles by the first quarter 2009 and is in the process of determining subjects now. "I have to make sure we choose the ones where can have online communities that are engaged and active."
Meet the Author
---