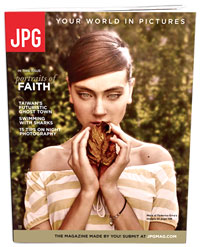 RELATED: Memo from 8020's CEO
8020 Media, a publisher heralded for its community-driven editorial model, is shutting down.
The four-year-old company, which had published JPG, a photography magazine comprised of user-submitted content, simply ran out of money, its CEO, Mitchell Fox, wrote in a memo late last week.
"In the face of these extraordinary economic times, in a devastated advertising climate, we can no longer continue to operate the business due to lack of funds," he wrote. "So, while we sit here at the precipice of profitability, the negative marketplace forces are too strong to overcome, and we must take this regrettable action."
8020 had been backed by Halsey Minor, the founder of CNET. According to a post on the New York Times Web site, Minor had recently offered to sell 8020 to Meredith and Condé Nast, without success.
According to the post, 8020's 18 employees were given the holiday week off. During the week, they received individual telephone calls and e-mails with the news that the company had exhausted its options and would shut down.
"There is no doubt that our company has done what no others have yet to do," Fox wrote. "That is, prove that the Web and print can work effectively together, one supporting the other."
"However, none of us could have predicted the global economic collapse we've witnessed in the past few months," Fox continued. "So our timing to grow the business and bring it to profitability through even the smallest amount of additional funding could not have been worse.
In August, the San Francisco-based company was forced to fold Everywhere, its travel magazine. At the time, Fox told FOLIO: that 8020 would not only relaunch Everywhere "before the end of the year for sure," the company would launch as many as three new titles in the first quarter of 2009.
Even before the shuttering of Everywhere, there was trouble at 8020.  Husband and wife co-founders Derek Powazek and Heather Powazek Champ left the company in 2007 over "significant differences of opinion regarding the direction of 8020." The pair, which founded 8020 with Paul Cloutier in 2004, accused Cloutier of rewriting the company's history.