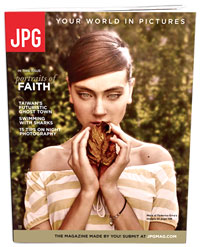 Late last week, 8020, the publisher of JPG magazine heralded for its community-driven editorial model, announced it had run out of money and would shut down.
"In the face of these extraordinary economic times, in a devastated advertising climate, we can no longer continue to operate the business due to lack of funds," 8020 CEO Mitchell Fox wrote in a memo. "So, while we sit here at the precipice of profitability, the negative marketplace forces are too strong to overcome, and we must take this regrettable action."
But the demise of 8020 Mitchell detailed in his memo might have been premature.
"After we announced we were forced to close 8020 Media we were approached by over twenty people/companies who want to make an offer to acquire the company," Fox wrote in a new memo. "Web based companies have come forward with offers to acquire JPG … and we're once again excited about its future."
Fox did not immediately respond to an e-mail seeking comment.
8020 had been backed by Halsey Minor, the founder of CNET. According to a post on a New York Times blog, Minor had recently offered to sell 8020 to Meredith and Condé Nast, without success.
However, Fox has a habit of making grand statements in the face of defeat. In August, the San Francisco-based company was forced to fold Everywhere, its travel magazine. At the time, Fox told FOLIO: that 8020 would not only relaunch Everywhere "before the end of the year for sure," the company would launch as many as three new titles in the first quarter of 2009. In his original memo, Fox wrote: "There is no doubt that our company has done what no others have yet to do. That is, prove that the Web and print can work effectively together, one supporting the other."
But there does seem to be a groundswell of support forming for JPG to continue. Shortly after Fox's announcement last week, a Web site, SaveJPG.com, was launched hoping to do just that. "The point of this page is simple," a post on the Web site reads. "To show that the community behind JPG doesn't need to stop existing. There has been too much effort made by the thousands of contributors to JPG to have it pulled away so quickly and with so little warning."
According to a poll on the site, 32 percent would like JPG members to buy the magazine.  (Twenty-seven percent would like to see Flickr buy it.)
This is not the first time readers of a magazine have taken to the Web in an effort to pull it out of the fire. In 2007, Business 2.0 readers formed a Facebook group to save the struggling dot.com era magazine. Ultimately, though, their efforts failed; despite a "serious offer" from competing Inc. and Fast Company publisher Joe Mansueto—Time Inc. decided to fold Business 2.0 into Fortune.