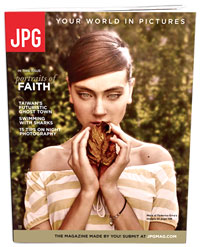 After several weeks of negotiations, a pair of investors has acquired the assets of San Francisco-based 8020 Media, a publisher heralded for its community-driven editorial model which was shuttered earlier this year.
The buyers—investment firm Millennium Ventures and New York-based camera retailer Adorama Camera Inc.—expect to relaunch the online and print editions of 8020's flagship, JPG, a bimonthly photography magazine comprised of user-submitted content, in April, former CEO Mitchell Fox told FOLIO: Friday.
"It's been a rollercoaster ride," he said. "I've learned a lot and I'm glad to have 8020 and JPG up and running again."
 
The new 8020 Media will be headed by Seth Familian, who will serve as president and CEO. Familian formerly served as 8020's vice president of product development.
Fox, who will serve as a member of its board of directors, said the company also is "examining its options" for a possible relaunch of 8020's Everywhere, a travel magazine that folded last August. Everywhere was comprised entirely of reader-generated content that was ranked and chosen for print by its online audience.

'We Ran Out of Money'
Backed by CNET founder Halsey Minor, former 8020 owner Minor Ventures shut the company down earlier this year. The firm reportedly offered to sell 8020 to Meredith and Condé Nast, but a deal was never reached.
"In the face of these extraordinary economic times, in a devastated advertising climate, we can no longer continue to operate the business due to lack of funds," Fox wrote in a memo.
Not long after the company folded, Fox said he received more than 20 acquisition offers for 8020, and that he was "excited about its future."
Derek Powazek and Heather Powazek Champ, the husband and wife co-founders of 8020, left the company in 2007 over "significant differences of opinion" about its direction. The pair, which founded 8020 with Paul Cloutier in 2004, accused Cloutier of rewriting the company's history.