While wedding magazines have long held a spot on the newsstand, digitally savvy brands have made their presence known with high social engagement and up-to-the-moment trend coverage. Xo Group's The Knot, a quarterly print magazine and digital powerhouse, is one such brand whose Instagram following has become a force unto itself.
Having recently reached 1 million Instagram followers, The Knot's pictorial wedding coverage surpasses popular print brands by a landslide — Brides magazine has 679,000 followers, while Martha Stewart Weddings has 447,000, and Bridal Guide has 102,000.
Folio: dug deep with The Knot's associate social media editor Jessica Molinari to find out what makes its Instagram strategy so successful, and how you can leverage such tools with your own brand.
Folio: The Knot's Instagram has over 1 million followers. To what do you attribute that success?
Jessica Molinari: Weddings are so visual, which makes them a perfect fit for Instagram. We've gotten lucky in that sense, but of course luck will only take you so far. Our team had such success on Instagram by putting inspiration first. Instagram has become a great place to find and share ideas, especially when it comes to weddings, and our success can be attributed to the fact that we give our couples exactly what they're looking for — an endless well of beautiful images and unique ideas for planning their perfect day.
Folio: What type of content drives high engagement with your followers?
Molinari: Our followers engage with all things pretty, but especially with rings and gowns. We've found our success in identifying these key categories, then balancing them with other types of content. So we'll balance our heavy hitters — rings, gowns, and reception setups — with other inspirational photos such as detailed table settings and bouquets.
Folio: What are your rules for choosing content?
Molinari: I wouldn't call them "rules," but when choosing images, we look for beautiful photography that represents a diverse range of weddings. The photos should also showcase some specific detail or trend. In addition, we like to look at our account holistically, not on a photo by photo basis. So when users come to our Instagram for the first time, they can immediately be able to find at least one photo that represents their wedding style in some way.
Folio: The Knot won a Digiday award in 2015 for its "creative storytelling." What does this mean to you, and how do you execute it?
Molinari: I hate to sound cliché but I don't think I could sum it up better than "a picture is worth a thousand words." Instead of telling people the trends, we show them. You can write as many words as you want about how seamlessly a North Carolina couple incorporated their love of nature into their nuptials, but you can't really get that point across effectively until you show an eye-catching image of their reception tent draped in floral garlands, surrounded by the beauty of a local botanical garden…The caption, while still important, is simply for our commentary.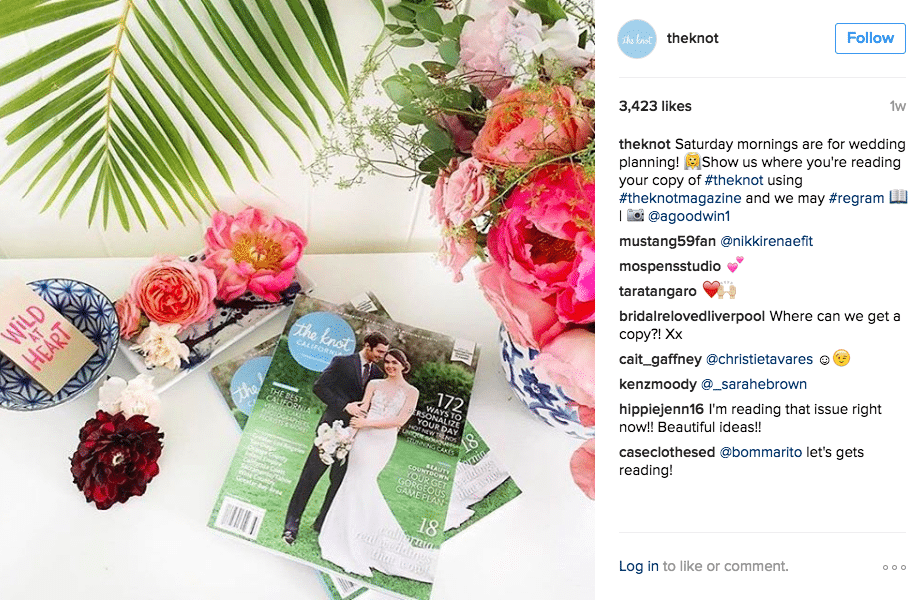 Folio: How do you use Instagram to drive content toward your website?
Molinari: We've seen the most success in driving Instagram content back to TheKnot.com by featuring an image from a celebrity wedding, pre-wedding event, or engagement on Instagram, then directing our followers to click the link in our bio to see the full editorial story. We'll also promote our other editorial content, like trend pieces and "Real Weddings" features, with the same tactics.
Folio: How is The Knot monetizing its success on social?
Molinari: We have found success in creating and monetizing a few fun franchises to get our followers even more engaged in our and our advertising partners' content. Our most successful franchise is Fashion Friday, which is a day-long takeover with a bridal designer. Throughout the day, we share photos of real brides wearing the designer's work. Since dresses are already an engaging category for us, we see lots of engagement on these posts throughout the day.
Folio: What suggestions can you give to non-wedding brands looking increase their followers?
Molinari: One of the most important tools you can use are hashtags. Don't go crazy with them, but use a few key hashtags that really drive home what your content is portraying. The smart use of hashtags will lead the right people to your account and, if your content resonates with them, turn them into dedicated followers. You can also cross-promote your Instagram on your more successful social channels. Since fans on other social platform already love your brand, they'll happily become loyalists for your Instagram, too.
Folio: With Instagram's new algorithm prioritizing importance over chronology, how can a brand stay visible?
Molinari: It's all about engagement. If a follower is consistently double-tapping or commenting on an image you post, they'll see your photos first. The best piece of advice I can give is to take a deep dive into your Instagram stats from the past six to twelve months and find the pieces of content that have consistently performed the best. Once you've identified these trends, run with them.
Folio: Who do you follow?
Molinari: I follow a lot of other wedding sites, blogs, and influential wedding vendors to stay up on the trends. I also get a lot of inspiration from following other women's lifestyle publications like People, Who What Wear, Cosmopolitan, and Glamour. Their approach to Instagram is so different from ours and it's really interesting to observe. But my guilty pleasure is following food sites and blogs — I follow at least 10!