60 Percent of B-to-B Marketers Plan Increased Spend on Content Marketing in 2012

Articles, social media, blogs most popular platforms, per CMI.
Content marketing, which is viewed as one of the hottest trends in publishing in 2011, is poised to continue its market dominance in the upcoming year. "B2B Content Marketing: 2012 Benchmarks, Budgets and Trends", a recent survey conducted by the Content Marketing Institute, reports 60 percent of surveyed business-to-business marketing personnel plan to increase content market spending in 2012.
On average, the surveyed marketing personnel allocate 26 percent of their total budget to content marketing initiatives.
Joe Pulizzi, founder of the Constitute Marketing Institute, told FOLIO: earlier this year, "If you look at branded and custom content, it's all the same. We decided to go with 'content marketing' because brands didn't get 'custom publishing'–they automatically thought book publishing or print. The idea is that marketers need to be publishers today. When you talk to a brand now, they get it right away."
According to CMI's findings (the survey was conducted in August 2011 with 1,092 marketers by CMI and MarketingProfs), b-to-b marketers use an average of 8 content marketing tactics to achieve their goals. Article posting ranks the highest with 79 percent usage; social media is used by 74 percent of survey respondents.
In the social media sector, Twitter use increased by 35 percent to 74 percent in 2011, with Facebook use up 30 percent from 2010 numbers to 70 percent. Pulizzi observes, "Twitter, from a listing standpoint and niche content standpoint, is easier to use in a niche business rather than a large consumer. You're focused on hashtags and different searches that are focused on content sets. Twitter is our most effective broadcasting tool: less social media, more broadcasting."
He says, "Twitter is closer to what they [marketers] are doing now, as opposed to Facebook, where you really have to interact."
Blogs are utilized by 65 percent of marketers, and e-newsletters are used by 63 percent. 58 percent of respondents use case studies, and in-person events are used by 56 percent of markets for content marketing purposes.
Blog and video use has increased 27 percent in 2011 from 2010.
"Producing the kind of content that engages prospects and customers" was identified as the biggest challenge in content marketing, with 41 percent of respondents citing this concern. 62 percent of marketers are choosing to use both in-house and outside resources for content marketing production, up from the 55 percent that used the same mix last year.
Despite its growing popularity, an exact equation for measurable ROI as a direct result of content marketing still has not been found.
"The biggest challenge, seen in the qualitative comments and working with our own customers on it, most of them are having a tough time showing return in any way. They know the print magazine is working for them, but they're not quite sure how much. They're getting better at it, from a metrics standpoint, but that is going to be an ongoing process," says Pulizzi.
According to the survey, 58 percent of respondents rely on web traffic numbers for measuring content marketing success. 49 percent rely on sales accepted leads to gauge content success; and 41 percent rely on direct sales and sales lead quantity to measure campaign effectiveness.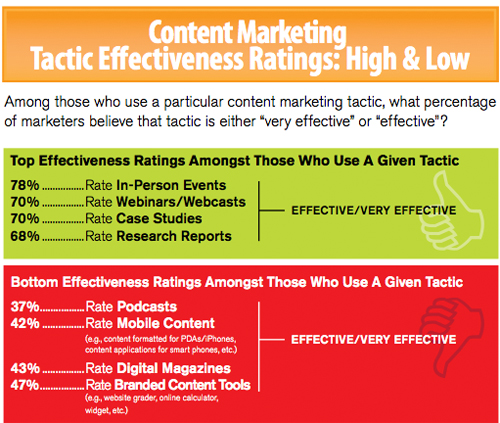 Meet the Author
---