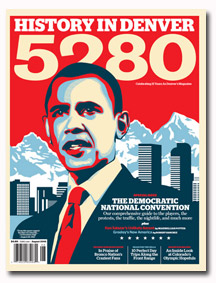 SEE ALSO: Brogan's Blog Post for FOLIO:
Denver, Colorado is gearing up for the Democratic Convention later this month, and 5280, the city's well-regarded regional magazine, scored a bit of coup by landing Shepard Fairey, the renowned street artist, to design its August cover.
"I honestly think it's the best issue we've ever done," Daniel Brogan, 5280's editor and publisher, wrote in an e-mail to FOLIO:.
Fairey, who gained notoriety in the late 1990s for his viral "Obey" designs, featuring an iconic image of Andre the Giant, received similar critical acclaim for a Barack Obama poster he designed earlier this year.
"Anytime you put a politician on the cover of a magazine, you're bound to make people mad. And in a swing state like Colorado, a political cover means you're probably going to offend a whole bunch of people," Brogan wrote in his editor's note. "So when we sat down to choose an image that would kick off this month's issue of 5280, we spent weeks looking for a way to avoid anything that might be construed as partisan."
But when they settled on an Obama cover, Brogan fired off a blind e-mail to Fairey. "His people got back to me within a few hours," Brogan wrote. "He was very open to our ideas and didn't complain a bit about the usual concessions you have to make for things like logos, headlines, and UPC codes."
While Brogan declined to reveal what he paid Fairey for the cover design, he hinted 5280's wide distribution in Denver led the artist to give the magazine a discounted rate. The magazine has a circulation of 92,000.
"Let's just say that Shepard was very accommodating," Brogan wrote. "He really understood both the importance of the occasion, and the fact that it'll be seen by a lot of key people." In addition to its newsstand presence, 5280 is placed nearly all of the area's top hotels, so the delegates, media and VIPs attending the convention will see Fairey's image, Brogan wrote.
"People seem pretty surprised that Shepard would do a cover for a local magazine, so it's been a real coup for us."
Annual revenue for 5280 is approximately $8 million, up from $5 million in 2004.