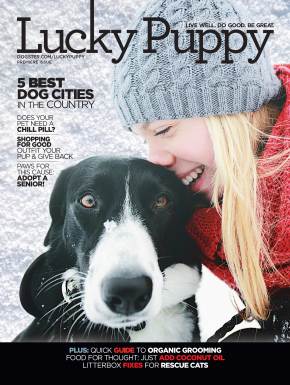 i-5 Publishing, producer of enthusiast brands Catster, Dogster and Cigar & Spirits, among others, announced the launch of Lucky Puppy, a new digital and print lifestyle brand devoted to pet adoption and integration into homes.
The first publication and brand of its kind, according to the publisher, Lucky Puppy will launch on i-5's Dogster.com in January, with a print and digital quarterly magazine set to debut in the spring. The magazine will be distributed for free to a combined 400,000 print and digital readers, with plans to ramp that figure up to one million readers by the end of 2016.
"There's a huge community out there of rescues and shelters that we found don't necessarily need a lot more help; what they need is more people taking pets home," Jennifer Black, chief digital officer at i-5, tells Folio:. "The whole purpose of the new magazine is to talk about the integration of a lucky puppy or cat into your life once they're at home, and creating awareness around those kinds of things."
Lucky Puppy's content will fall under the guise of three defining principles: live well, do good and be great. Topics of coverage will include the best pet products on the market, healthy diet and exercise routines, training behavior, and ways of transforming communities and the lives of shelter pets. The premiere issue will include a feature on creating the ultimate dog-friendly neighborhood.
"It's for those people who really make mindful choices," says Melissa Kauffman, group editor. "The choice you make to rescue a dog or a cat. The choice you make to buy that pet the best possible products. All positive choices you make."
The print version of Lucky Puppy will be distributed four times a year, free of charge to Dogster subscribers. In addition to the built-in Dogster and Catster subscriber base, the magazine will be distributed to rescue organizations and veterinary offices across the U.S., free of charge.
"In general, this is part of something that i-5 is doing as a give-back," continues Black. "We're giving the digital edition away for free. There is absolutely a need for the content and for the education. This is the way we felt it was best to get it out there to as many people as possible."
Founded in 2013, i-5 moved quickly that same year to acquire the special interest media assets of BowTie, Inc., including Cat Fancy, Dog Fancy and Horse Illustrated. After purchasing web-based properties Catster and Dogster in 2014, i-5 then closed both Cat Fancy and Dog Fancy and introduced bimonthly, alternating print versions of Catster and Dogster in their place. Earlier this year, the company introduced Petcha.com, an interactive pet search site for prospective adopters.
A mix of internal i-5 employees and new hires will compose the staff of Lucky Puppy, which will operate independently from Dogster, but will enjoy promotion to the one-million registered users across i-5's web properties.
"It will be living on Dogster.com, but we will be creating unique and fresh content for Lucky Puppy that will be separate from Dogster," says Kauffman.