$300K+ in New Revenue: Intellisphere's Conference 360

How custom event packages are driving growth.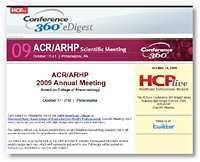 In a market filled with big names such as the New England Journal of Medicine and the Journal of the American Medical Association, medical publisher Intellisphere has created a way to break through with custom edit and marketing packages wrapped around event coverage.
Intellisphere takes it a step beyond sponsored show dailies with Conference 360. "Over the past few years we've seen attendance of medical conferences by physicians decline, so we developed a program around conference coverage," says vice president of digital media John Maillard. "We decided to come up with Conference 360 which combines a sponsored daily e-mail from the show floor, a recap in the print magazines and online including video and a Twitter feed from show. We hope to extend this in 2010 with mobile apps."
That approach has enabled Intellisphere to land new clients such as Athena Health. "We came to their agency Digitas with a proposal that combined the Conference 360 program with our resource center online, which let them to put up white papers and downloads," says Maillard. The program included four days of live coverage of the MGMA conference plus a recap and an ad in the magazine. "We'd like to do a bigger program with them around augmented reality in 2010," adds Maillard.
Maintaining Editorial Independence
Intellisphere reserves the right to cover all aspects of the select conference, including news from the sponsor's competitors, according to editorial director Bill Schu. "We cover the event the same regardless of the advertiser," he adds. "We want to make sure it's editorially sound."
Content could range from thoughts on the keynote speaker to tweets from the show floor. "We're not as clinical as something like JAMA and we can go outside the box with our coverage," says Schu. "Real time coverage is the most important part of the editorial component."
The Third Highest Grossing Product
Price points vary depending on what the client wants as well as the size of the event (coverage of a topic-specific conference on rheumatology could cost $12,000, while coverage of a primary care event could range into six figures). The typical Conference 360 package costs $30,000 to $40,000, according to Maillard.
Intellisphere did about 12 packages through Conference 360 in 2009 and is anticipating doing 18 for a variety of clients in 2010.
"More than $300,000 in business was generated from conference sponsorships for Intellisphere in 2009," says Maillard. "In 2010 we've already confirmed around a quarter of a million dollars worth of business in Conference 360 programs and anticipate doubling that by year's end, making it the third highest-grossing product in our portfolio behind custom e-mail blasts and therapeutic-specific condition centers."
Meet the Author
---