The Internet and digital technologies present a wonderful opportunity for content publishers to collect information about their readers. Yet, without a strategic plan in place surrounding that data, the information is useless.

Condé Nast's Glamour magazine uses online insights from its digital audience to maximize not just the Web experience, but print as well. During a FOLIO: webinar on reader engagement this week—which is now available here on demand—Mike Hofman, executive digital director for the brand, shared best practices on measuring and maximizing the reader engagement from the title's 5.6 million monthly unique visitors and 6 million social media fans and followers.
Here, FOLIO: delivers Hofman's three best tips for capitalizing on your audience.

1. Understand Your Audience
Carefully watch uniques, page views and visits in addition to monthly repeat visits, daily repeat visits, page depth and session duration. Pay close attention to your sources of traffic—whether from search, social, mobile, newsletters or syndication. This will help you to understand your audience in order to deliver content. All of these things should be used together to get the most complete picture, which will give your team a stronger sense of the audience's true passion points.
In addition to watching your own online metrics, Hofman suggests using other tools to measure the audience. According to his Webinar presentation, look to things like Chartbeat, Omniture, Google Analytics, Social Flow (with Hootsuite for mobile), Facebook Insights and Pinfluencer, just to name a few.
2. Develop a Plan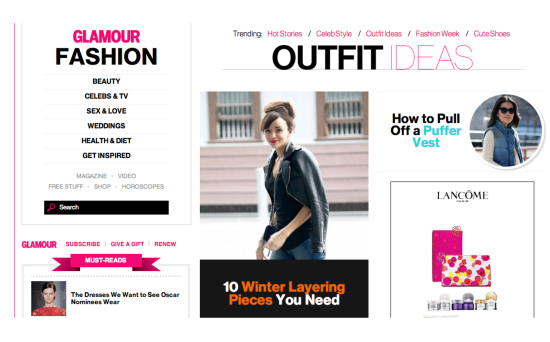 In November, Glamour.com redesigned its site based off of online insights to make its digital presence more visual and photo driven, and to feature deeper social media integration. In addition, the site now uses responsive design to create an elegant and seamless viewing experience for the mobile and tablet browser. The audience growth spiked to 5.66 million in January 2013 (though there was an initial decrease in Dec. 2012 to 4.75 million), up by more than 1 million from January 2012's 4.6 million.
Hofman says that Glamour saw online trends and decided to test different language on its site because of it. The phrase "Outfit Ideas" as an alternative to "Street Style" popped into headlines. The brand saw strong search referral traffic around the phrase and decided to create an entire series and then site section around it (pictured above). In-book, Glamour magazine rolled out a content section called "The Month in Outfits," as well as online video shorts around the topic. In this way, the brand used reader engagement metrics and maximized its strategy around it.
3. Leverage Online Insights into Print Pages and Vice Versa
By looking to the Web, publishers can test and refine language that could be incorporated in-book, using the learnings to inform print editorial choices. Hofman says brands should test visual content, segment the larger audience and vet under-the-radar topics that could put a brand ahead of a curve—and keep the publication and associated properties in the minds of readers.
Don't be afraid to also integrate successful in-book franchise content sections into a larger Web play. For several years Glamour has given readers its "Hey it's OK…" content section. The brand rolled it out online with in-site posts as well as a dedicated pin board on Pinterest. Additionally, the brand looks to Twitter (pictured right) to get readers to share their 'It's OK' moments, and integrates them back in book. In this way, Glamour took a successful in-book component and moved it online, while also tying the online component back to the glossy—further keeping the print magazine in the minds of readers beyond the month it's on sale.
Stay updated on the latest FOLIO: news, follow us on Facebook & Twitter!