Digital growth is coming, but its still far from becoming the central pillar of magazine media, according to PricewaterhouseCoopers annual Global Entertainment and Media Outlook.
Overall, the industry is rebounding from several years of declines, and is expected to increase total global revenue in each of the next five years, topping out at $97.42 billion in 2019, up from $95.33 billion last year. Now in its 16th year, the report provides a five-year forecast based on advertiser and consumer spending data and commentary.
Here's what publishers need to know:
B2B Should Be Abroad: Total magazine revenue will track upward through 2019, largely on the strength of a 1.5-percent compound annual growth rate in trade magazines, spurred by performance in foreign markets. B2B media thrives in growing economies as companies look to enhance market intel, and countries like Peru and China, the report says, will see the fastest growth in total trade magazine revenue, with CAGRs of 8.5 percent and 8.3 percent, respectively.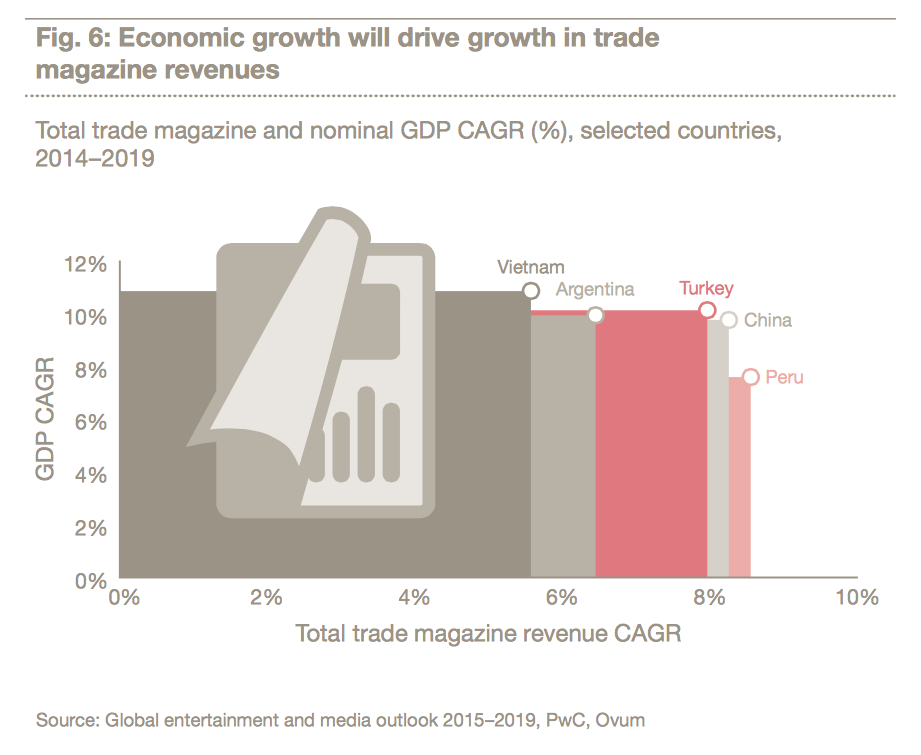 Change Is Slow: While a few consumer magazines already rely on digital for a majority of their revenue, most of the industry still relies heavily on print—PwC's data suggests print ads will generate roughly 3- or 4-times more revenue than digital will this year. It's not surprising that the print-digital revenue mix is changing over time, but it'll continue to happen gradually through 2019. Even five-years down the road, print revenue will still account for nearly two-thirds of ad spending.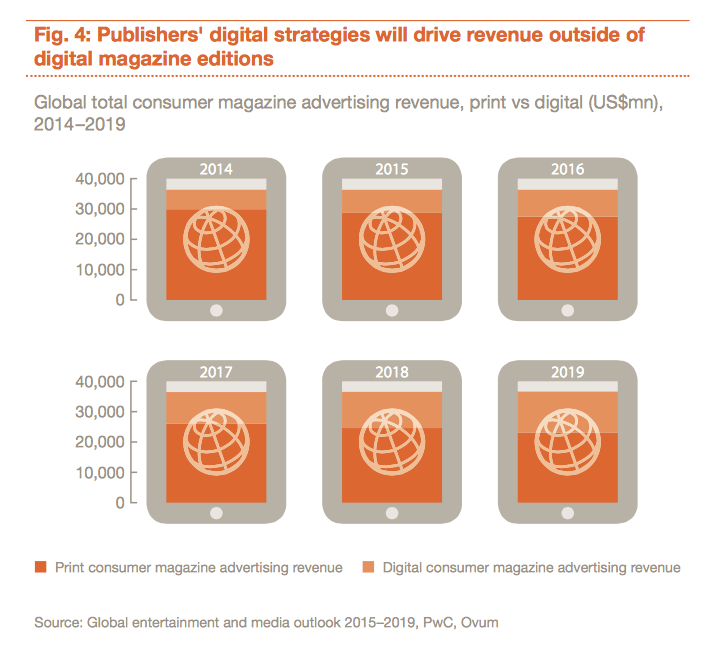 Digital Editions Don't Matter: Consumer magazines get almost all their circulation revenue from print, and that's not about to change. Even as the world gets inundated with devices—PwC forecasts that smartphone ownership will double by 2019—digital editions will still only generate a small fraction of what print does.
(Interestingly, the report argues that ebooks will have an easier time than digital magazines in displacing print predecessors. In countries with high tablet penetration, like the U.S., ebooks will make up more than 40 percent of total book revenue by 2019.)