Is 2D Barcoding in Your Future?

2D bar codes are enhancing both print and digital revenue opportunities.
There is a new tool in the magazine publishing arsenal for delivering new and dynamic content to the reader—BUT from the printed magazine! By using your smartphone, you can take a picture of a postage stamp-sized 2D barcode on a printed page of an article (or ad), and suddenly be transported to the magazine's linked destination. With a 2D bar code, you can:
• Quickly access additional information for an article (or ad) of interest to you by finding local retailers selling mentioned products/services (Meredith's Recipe.com), or from your smartphone purchasing merchandise featured in an article (Esquire), even entering a sweepstakes offered through the 2D barcode (This Old House).
• View videos from your smartphone on improving your golf swing from the practice range (Golf Digest); or see featured auto races (or car reviews) in action (Road and Track), even listen to new songs before buying from your favorite music download store.
• Even subscribe to the magazine you are reading while in the doctor's waiting room! And the list goes on…
The movement by consumers to smartphones is rapidly accelerating, so much so that—when also considering camera phones and MMS (multi-media messaging service), as many as 90 percent of all cellphones can benefit from 2d barcodes now—with about half of that being smartphone users.
Quick Response (or "QR") is a type of 2D barcode. Depending on the Platform, 2D bar codes are capable of holding tens and even hundreds of times as much information as 1D bar codes. For instance, one of the most popular 2D bar code formats, Denso Wave's QR Code, can hold more than 7,000 digits or 4,000 characters of text, whereas even the most complex 1D codes top out around 20 characters. 2D bar codes can be small, multi-colored, and easy to scan depending on the vendor—while also being unobtrusive to the page design.
When deciding which 2D barcode platform to use, consider:
1. The availability on the reader's smartphone of the barcode reader app as either pre-installed (e.g., "Scan") or downloaded by the user onto the smartphone; or at the least a camera phone capable of using MMS to retrieve the barcode destination (although that takes longer as it is a two-step operation with added response time).
2. The greater the number of code actions that the barcode can be programmed by the platform vendor means greater versatility in terms of the variety of 2D Barcode campaigns that can be accommodated.
3. A small foot-print by the code, even use of color, makes the code noticeable but not overwhelming to the page's design. Use of color logos designed into the barcode area for brand identity is okay IF it does not cause the reader to properly identify and scan the code, and the code remains readable by all smartphones for the translating the correct code actions.
4. The magazine has to clearly identify for the reader early into the content (e.g., TOC page) what the barcodes can mean and how to scan (or MMS) them.
5. Most smartphones should come pre-installed with a "SCAN" reader app compatible with the barcode's platform. Otherwise, if a reader app is needed by his smartphone, there should a URL for the consumer to freely download the reader app.
6. The publisher should be able to change the destination of the barcode after the magazine is printed.
7. The publisher needs to obtain analytics reports from the platform provider, which can include specific data ranging from device type to number of scans by location to specific demographic data including name, location, age, gender, occupation, household income, and interests such as sports/hobbies, etc.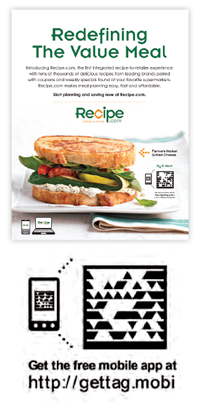 CASE STUDY #1
Meredith Corporation
Recipe.com
Doug Crichton, director of mobile engagement for Meredith Corporation, says that the first printed issue of Recipe.com using MS tags (a proprietary yet popular platform from Microsoft) was the June 28, 2011 issue. So far, the magazine (which has a 350,000 copy print run) has realized more than 9,200 scans to-date, without any problems.
Readers were alerted to the tags (as well as how to use them) through the editor's note, as well as explanations throughout the magazine pages.
"The campaign incentive for Recipe.com's magazine is for readers to see what ingredients in a recipe are on special right now in their local supermarkets," says Crichton. "In the other magazines, the value has been bonus content, such as a behind-the-scenes video."
This use of 2D barcodes can mean additional advertising revenue opportunities for the magazine for new vertical markets, i.e., down to the retailer level, by the reader simply entering her zip code.
In terms of added data analytics from the readers scanning the tag, Crichton says that, "We can also get a heat map via Microsoft's reports to see where our scans are coming from. You can zoom all the way into street level with it. As the number of scans continues to grow, and we get more issues under our belts, we'll be better able to aggregate, analyze, and apply the data."
Scans also give the publisher feedback on content. "The scan data is a great, and instant, way to help determine which recipes are most popular with readers," says Crichton. "After all, you wouldn't scan a tag if you weren't very interested in its associated recipe. This information will also help show which categories of recipes our readers are most interested in—such as desserts and appetizers."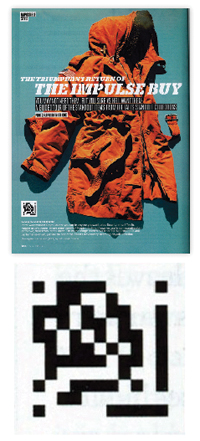 CASE STUDY #2
Hearst Magazines
Esquire
Richard Dorment, senior editor for Esquire and an early adopter of 2d barcodes, says that, "We chose to work with Scanbuy's open platform ScanLife because their software comes pre-loaded in a variety of phones and because they offered a user-friendly experience for the reader." 2D Barcodes were first used within the March 2010 "Esquire Collection" issue, which included a feature article covering 25 articles of clothing. The objective was to simplify and encourage consumer shopping behavior by placing barcodes next to featured merchandise, which when scanned took the reader to the vendor's own website; wherein the reader was linked to a secured "store front" where the merchandise could be purchased by credit/debit card.
Scanbuy conforms to the standards proposed by the Open Mobile Alliance. As open code, it assures greater readability between phone operating systems and makers. And also there can be multiple vendors who can create that code and read that code. And in turn, readers with smartphones having an open-platform QR scanning application (like AT&T's Code Scanner) can likely read Scanbuys' codes.(Readers with smartphones that have an open-platform QR application can likely read Scanbuys' codes as well.)
Esquire received analytics from Scanbuy (made possible by Scanbuy's code actions) covering readers' voluntary responses, including in some cases household income, their interests, location, occupation, etc. "We received personal data from those users who opted in to sharing their information, and that data provided a better understanding of the type of person who uses this technology," says Dorment. "And it has, in fact, helped us determine the most effective uses of the technology in the magazine."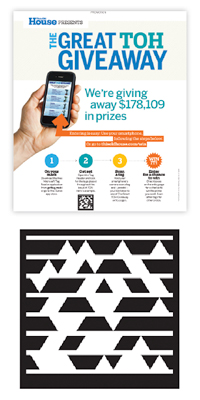 CASE STUDY #3
Time, Inc:
This Old House
For the second time in a year, This Old House has published a full issue that uses Microsoft tag technology. In the October 2010 issue, tags were used to give away $31,000 worth of prizes. Now, the August 2011 issue utilizes Microsoft tags again, this time with 28 tags from 42 different manufacturers giving away more than $178,000 worth of prizes, including an entire home.
This Old House editor Scott Omelianuk says that, "We knew [Microsoft tags] were an emerging technology with a lot of potential and we decided to start including them in our edit and advertising. At the same time, because it was a new technology and we knew it required smartphone users to download an app, we thought we'd create an incentive, and so attached a sweepstakes to some of the first tags we included in-book. The response to that was so significant that we started to dedicate one issue each year to a tag-driven sweepstakes."
The Great TOH Giveaway generated more than 100,000 sweepstakes entries in the first few days of the campaign. Omelianuk says, "I'd point to the number of scans we've already received as evidence that reader response has been positive. And I'd point to the number of manufacturers who donated product as evidence that our advertising partners embrace the idea too."
Moen, Mitsubishi, Minwax, Delta, KILZ, Eldorado Stone, Olympic Paint, Loctite, Benjamin Moore, and Kwikset all used tags on their ads as part of the issue.
"On average, we have about five or six advertisers in every issue that use 2D barcodes on a regular basis and that list is growing," says publisher Charlie Kammerer.
Charts and other bonus content is also available at www.pubresource.com
Meet the Author
---