24 Observations from the Magazines 24/7 Conference

Digital bullet points.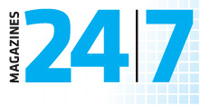 The Magazine Publishers of America held its fifth annual digital magazine conference, Magazines 24/7, in New York today. Read our full report here. Below, some additional observations.
1. No Wi-Fi. At the Digital Magazine Conference. Wi-T-Fi?!?!
2. More than 250 attendees—a good sign for an association that was recently forced to cancel its signature event, the American Magazine Conference.
3. During his opening keynote, Avinash Kaushik, Google's "analytics evangelist" (sweet job title), eviscerates Newsweek.com in a critique of the site. "I went on there, I did the poll—what the hell was that?"
4. Question: "What is the goal of a blog?" Google Evangelist's answer: "To inspire irrational loyalty."
5. The Knot's Carley Roney, speaking on a panel called "Raising the Digital Bar in a Down Economy": "We've moved beyond weddings—we're a life stage media company."
6. Corporate spin alert: Hearst EVP and general manager John Loughlin said the company has been outsourcing technical work on its Web site to Vietnam, India and Poland, for "cost and efficiency." "We're upscaling the jobs" in the U.S. If the economy turned around today, he said, "we'd still pursue this."
7. Adweek editor Jim Cooper, moderator of a panel entitled "Are Paid Sites the New Black?" on his resistance to them: "I'm a conditioned traffic whore, and a cheapskate."
8. Surprisingly not much mention of Twitter, although there were some attendees tweeting.
9. Perhaps more surprising, virtually no mention of digital magazines.
10. Lots of talk of mobile "apps," particularly for the iPhone.
11. "There's been a reticence among magazine publishers to trust the audience," says Geoff Reiss, GM, Newsweek Digital.
12. Reiss: "We've successfully completed the first step in a 12 Step program: We've identified the problem."
13. Rodale executive vice president and group publisher MaryAnn Bekkedahl, on charging for online content: "People have been talking for a long time about how the consumer is in control—I think it's time we should take back control, and set the policies."
14. Bekkedahl adds: "The 23-year-old on an iMac in the café—people are beginning to realize that isn't great content. He doesn't have the experience." I think 23-year-olds, even those at Rodale, might have a lot to say about that.
15. Not every advertising deal should be integrated, says Digitas SVP Jordan Bitterman. "There are so many signoffs, not everyone [at an agency] is going to be on board. Sometimes it's not worth it."
16. How would you monetize Facebook, if you were in charge? "Data—they are sitting on more data than MRI or anyone in the magazine business, and it's updated weekly, daily, even hourly. That's extremely valuable."
17. Some refreshing honesty. Hank Boye, publisher, Harvard Business Review, on charging for premium content: "It may not work. We're not sure where it's gonna go."
18. Eric Patterson on IDG's Game Pro launching its own video game label: "We know we're blurring the lines [between church and state]."
19. Three digital trends, according to Razorfish's Domenic Venuto: aggregation, data, and social influence marketing. "Data is the new creative."
20. Domain names are still important. Meredith digital VP Dan Hickey says the company paid $5,000 for Mixingbowl.com, and they view the branding return on that investment "priceless."
21. Dumbest (perhaps unintentionally) quote of the day, courtesy of MySpace sales and marketing president Jeff Berman: "Social networking has existed since the beginning of society."
22. Getting magazine publishers to put the Web first in terms of priority is not only a good idea, says Forbes editor Paul Maidment, it's essential to their survival.
23. Playboy has created a slick trailer for a short called Playboy Interns, replete with product placement, specifically for mobile phones. Who has the time to watch this?
24. Back to the Google evangelist dude: "Advertising and subscriptions are not going to save your business. Customers will."
Meet the Author
---