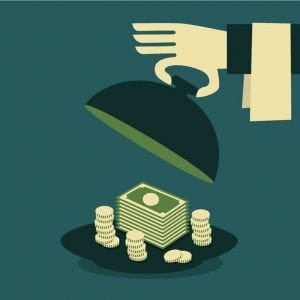 In director-level sales and marketing positions, men still take home more than women. But this year, female audience developers and account executives/content marketing professionals are out-earning their male counterparts and in some instances, are taking home thousands more. 
Last year's survey revealed significant gender-based pay inequality for sales and marketing job functions, including male publishers out-earning their female counterparts by 41 percent in 2016.
This year, the top-earning sales and marketing positions in Folio:'s 2018 Salary Survey were publishers/sales directors and account executives/content marketing professionals—the median total compensation of which come to $155,000 and $105,500, respectfully. And while male publishers/sales directors earn an average total of $158,000, versus their female equivalents earning $144,000—and this was the largest pay difference based on gender—female account executives/content marketers out-earned their male counterparts by $11,200 with an average total compensation of $109,000 compared to the male average of $97,800.
In all instances where there are inequalities in total compensation based on gender, the base salary for the out-earning gender was higher than their male or female equivalent—the largest pay gap being $11,000 more for male marketing directors/managers—and their bonus compensation varied from being a few thousand dollars short of the other, or being equal.
However, when looking at the overall departments, the standard that women earn less than men holds true. In all of the marketing and sales positions we surveyed, males out-earned females by an average of $10,000 more in their total compensation. And in both departments, this was split equally between base salary differences and bonus compensation differences, with men earning an average of $5,000 more in each of these areas.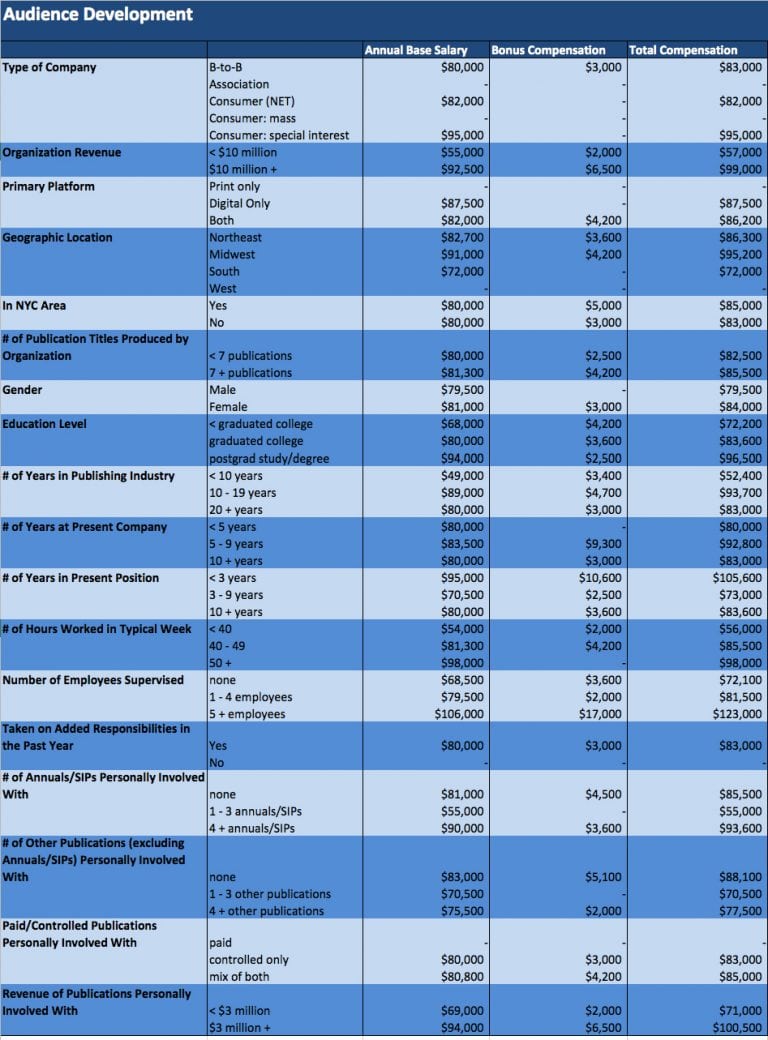 ---
Survey says the compensation doesn't reflect the job descriptions.
For publishers/sales directors who said they took on additional responsibilities in the past 12 months, their median total compensation ($144,000) was on average over $50,000 less than their counterparts who did not take on more duties within the past year. While the base salaries differ by only $16,000, the average bonus compensations have a difference of $37,500.
Furthermore, those who supervise one to four employees make significantly less on average than those who don't oversee any, $135,000 versus $162,000, respectively. Only when looking at supervisors who have five or more employees does the total average compensation increase to $167,500, the base salary of which ($125,000) reflects this responsibility significantly more than the average bonus compensation, which when compared to the average base salaries of someone with no employees and one to four employees decreases to $92,500 and $85,000, respectively.
When asked how satisfied they were with their overall compensation on a scale of one to five, with one being not at all satisfied and five being very satisfied, many publishers and sales directors ranked their satisfaction at a four, but still claimed that their compensation was far below what they thought appropriate for their level of responsibilities.
One publisher/sales director who ranked their satisfaction at a three said, "I get paid well for my sales, but nothing extra for the associate publisher, social media, editorial, newsletter and web management responsibilities."  
"Compensation is lower that I expect for the total revenue that I'm responsible," said another respondent who rated their satisfaction at a four. And a different publisher/sales director claimed that as their sales increase, their commission percentage keeps getting lowered.
This is nearly the same case for marketing directors/managers. Those who did not take on added responsibilities had an average total compensation of $87,000, $3,000 more than those who did. Though, it is important to point out that while the average base salary of those who took on more duties was $74,000, $13,000 less than those who didn't, their average bonus compensation was $10,000 compared to the $0 that those who answered "no" to the question reportedly earned.
"My compensation did not increase with promotion," said one marketing director/manager. "I am well compensated compared to many in my organization, but do not feel well compensated for my level within the organization."
For account executives/content marketing professionals, the difference in total compensation is only $1,000 more for those who answered yes to this question. Those who took on the added responsibilities earned $105,000 versus their counterparts who earned $104,000. And the average base salary for those who did not take on more duties was higher by $2,000 on average than those who did, not at all reflecting their changing job descriptions.
---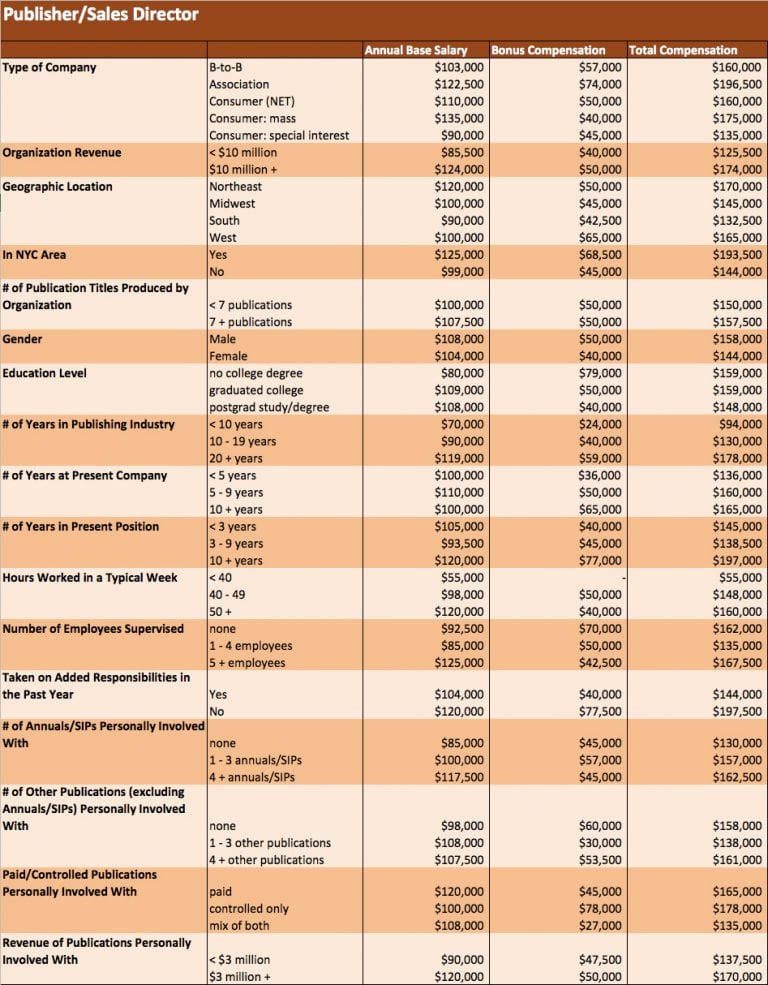 ---
Notes for marketing
For both the marketing directors/managers and the audience developers, consumer publishing is the most profitable type of publishing to be in as a marketing professional. For the former job function, the most lucrative area is consumer: mass publishing, with an average total compensation of $113,000. For the latter, consumer: special interest publishing allowed audience developers to earn over $10,000 more than their equivalents from other publishers, earning an average total of $95,000.
Additionally, revenue from events doesn't necessarily translate to higher compensation for those who work on them. This is even more apparent for those who work specifically with awards programs.
For marketing directors/managers who currently work on events, their average total compensation is $6,000 less than those who do not. While the difference in base salary is only $1,000, those who contribute to events earn $5,000 less in bonus compensation, making their total earnings $86,000 versus $92,000. 
When it comes to those who work on awards programs, their base salary is $11,000 less than those who don't, and the bonus compensation comes to an average of $3,000 less, making their average total earnings $79,000 compared to the $93,000 earned by those who aren't currently working on such programs. 
However, the numbers show the benefits of working on subscription marketing, with marketing directors/managers who in this area earning an average of $15,000 more in total compensation than those who don't, $97,000 versus $82,000, respectively.
As for overall satisfaction for those with marketing job functions, all but three of the 112 respondents rated their satisfaction level at a four.
"Salary is comparable to others in this industry/area an the benefits/pension opportunities are really stellar," said one audience development professional.
---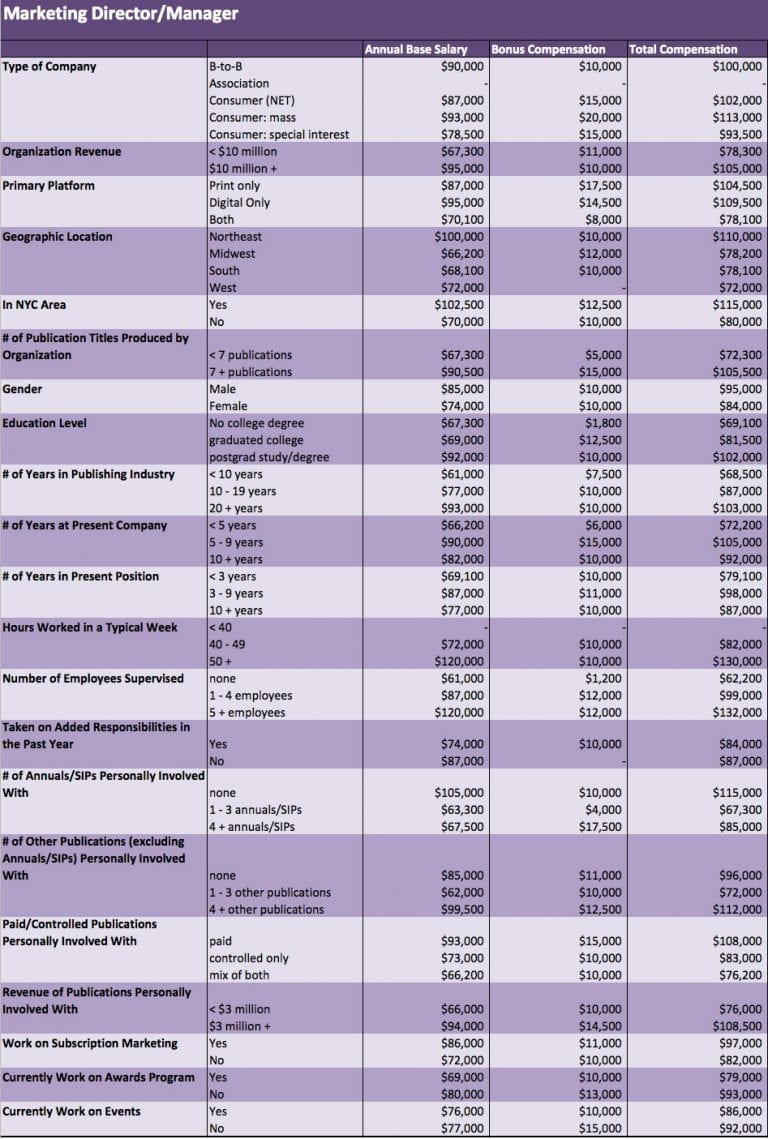 ---
Notes for sales
If you're a publisher/sales director, the type of publishing to be in is association. The average total compensation, $196,500, is $21,500 above the next top publisher, which is consumer: mass at $175,000.
For account executives/content marketers, b2b, consumer: mass, and consumer (NET) publishing offers the highest average total compensation, with an average of $108,000 at b2b publishers, followed narrowly by consumer: mass with $107,500, and $105,000 at consumer (NET).
And with both of the job titles surveyed, being located in NYC only further increases the average total compensation by $12,500 for account executives/content marketers, and by nearly $50,000 for publishers/sales directors.
Most of the 184 sales survey respondents also said that their satisfaction level was a four out of five, with the major takeaway being that they're satisfied, but would always be happier with more.
"I am about $7,500 away from my goal salary and have made management aware that I will be asking for more at the conclusion on my first year in my promoted position, with performance-based evidence," said one publisher/sales director.
---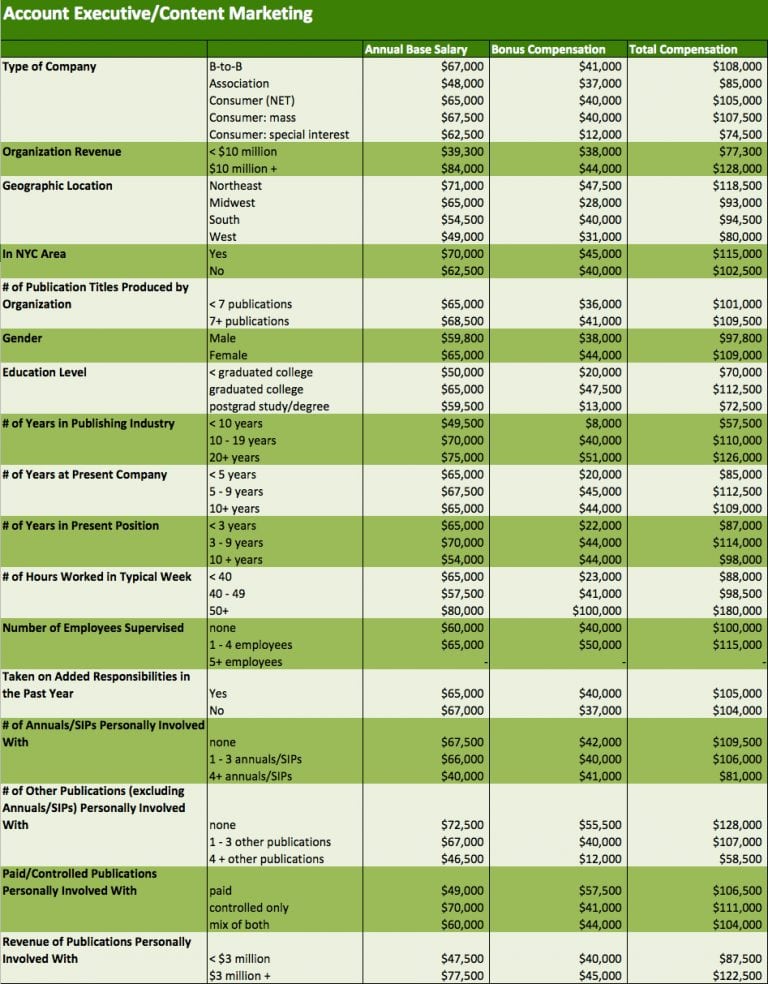 ---
Methodology
Data for the 2018 Folio: Marketing and Sales Salary Survey was collected from February 20 to March 15, 2018. In total, 296 marketing and sales professionals completed the 41-question survey jointly designed by Folio: and Readex. The margin of error for percentages based on 806 tabulated responses is +/- 3.3 percentage points at the 95 percent confidence level. The margin or error for percentages based on smaller sample sizes will be larger.
Click here for the 2018 Folio: Editorial Salary Survey posted earlier this year.