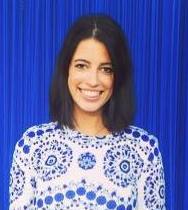 Sydney Simon
Senior Communications Manager
The Atlantic
In just two years, Sydney Simon has helped elevate the status of Atlantic Media's The Atlantic as senior communications manager and one-half of the company's two-person communications department. She's already considered a rising start at The Atlantic, having joined the company right out of college with its events division, AtlanticLIVE. For two years, she helped produce and program events. Seeing talent, the communications team snatched her up and taught her media relations on the job.
In her role, Simon publicizes the best reporting at TheAtlantic.com and CityLab.com and then manages the resulting press and interviews. In 2016, Atlantic journalists did more than 1,100 broadcast interviews. Her natural enthusiasm for journalism and keen news judgment serves her extremely well in pitching the right angles to bring more attention to The Atlantic.
Simon placed news that sales of The Atlantic were projected to grow 14 percent on newsstands as well as the story that The Atlantic was reprinting an issue to meet newsstand demand for the first time. The latter was covered by The Washington Post, Politico, and Folio:. At last year's Republican and Democratic national conventions, Simon raised the profile of The Atlantic's Politics & Policy team, booking more than 80 separate broadcast interviews.