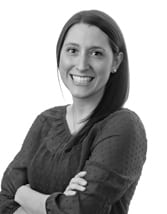 Marisa Palmieri
Editorial Director
North Coast Media

As editorial director of North Coast Media, Marisa Palmieri oversees the editorial staffs of all six of the company's brands. In addition to managing a dozen editors, she coordinates with sales on different projects and encourages cross-departmental dialogue while maintaining objectivity. She helped craft the company's corporate content marketing policy, editorial submission guidelines, and advertising labeling and design guidelines in an effort to propel North Coast Media's content marketing forward while also protecting editorial integrity.

For the past four years, she's also been the editor-in-chief of North Coast Media's Landscape Management, where she's seen revenue nearly double and website traffic grow by an average of 34 percent annually. Under Palmieri's watch, Landscape Management underwent a major redesign and rebranding effort in 2014. The following year, the magazine won 22 regional and national awards.

It was Palmieri who led the analysis of a multi-month reader and brand study, inferring that Landscape Management would benefit from a more masculine logo and content refocused on business fundamentals. But she also encouraged a redesign of LandscapeManagement.net to better balance form and function with content strategy. In 2016, the website drew 800,000 page views. Some of that success can be attributed to Palmieri's social media prowess. The brand's social media accounts function more as interactive communities, and audience has grown by double-digit percentages—triple-digits on Instagram—every year.