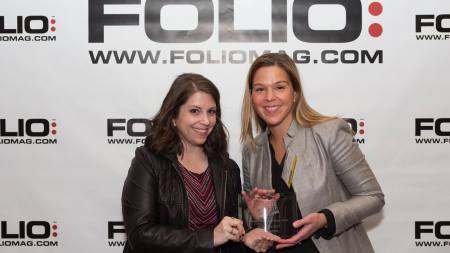 A lively crowd of over 300 professionals from all corners of the magazine publishing industry gathered at the New York Marriot Marquis to celebrate the 2015 Eddie & Ozzie Award honorees as part of the Folio: Show.
A panel of more than 300 judges narrowed 2,800 entries into a pool of roughly 1,000 finalists. In total, over 250 awards were given out across 33 categories, recognizing the best in eye-catching design and uncompromising journalism.
"We won both an Eddie and an Ozzie for our print magazine, which I think is fantastic," said Roger Cheng, executive editor of CNET. "At CNET, we are very web-focused. There is no dedicated print team. Our staff toils day and night, really gives that extra effort, and this is a result of that hard work."
Laurie Bedord, Successful Farming, took home Editor of the Year, B2B, while Anne Fulenwider, Marie Claire's editor-in-chief, won in the Consumer category. Natural Products Insider was named B2B Editorial Team of the Year; Newsweek won the team award for the Consumer Editorial Team of the Year.
On the Ozzies side, Steven Walker of Oklahoma Today earned Designer of the Year honors. Design Team of the Year was awarded to iostudio for their work on GX Magazine.
Several titles took home multiple awards, including Inc., IEEE, Experience Life and AARP.
"To me, it represents the ability to see teams from different groups come together and achieve something great," said Carrie Hartin, COO of Network Media Partners, Inc. "It shows that we've really put together a strong team."